Under-age 'tattoo party' warning in Falkirk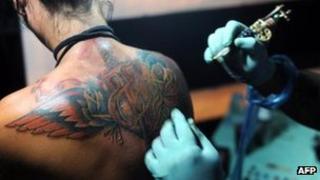 Police in Falkirk are investigating a "tattoo party" where it is thought a number of under-18s were given tattoos.
Officers said it was alleged that drink and drugs had also been given to the youngsters by the householder.
Health officials have warned about the dangers of such parties, which are usually held by unlicensed tattooists.
Central Scotland Police said it had learned that children as young as nine had been given tattoos in similar circumstances.
'Serious infection'
The force's Sgt Allyson Blair said: "Further research is being carried out into the information we have received but we would strongly advise anyone who is carrying out such acts to think of the potential consequences both in legal and criminal terms as well as health implications."
The tattooing of under-18s is an offence except where the tattoo is performed for medical reasons by qualified practitioners, or under their direction.
Dr Henry Prempeh, NHS Forth Valley public health consultant, said: "Getting a tattoo can lead to serious infection if it is not done with clean equipment and under safe conditions by a properly trained tattoo artist.
"The risks increase significantly if tattooing is carried out in premises that are not fit for purpose and regularly maintained such as a licensed tattoo parlour."
Dr Prempeh said symptoms of infection included redness, swelling, warmth and pain.
Such infections could also pose a "serious threat to health" in some people, the consultant added.