Four sheep dead after Loch Tay dog attack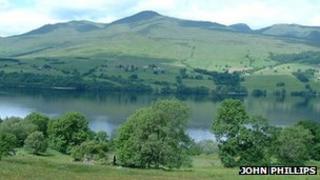 Two dogs have "viciously attacked" a flock of sheep near Loch Tay, killing two lambs outright and seriously injuring several other lambs and ewes.
Two more sheep had to be destroyed as a result of the "terrible injuries" inflicted during the attack, which took place at about 12:00 on Sunday.
The flock was in a field off the South Loch Tay road, about four miles from Killin.
Police said two lurcher dogs found nearby carried out the attack.
The dogs had apparently been abandoned and officers have so far been unable to trace the owners.
A spokeswoman for Central Scotland Police said: "The people responsible for these dogs must have known the damage that they could have inflicted.
"These people have since failed to make contact with the police to claim the dogs and have indeed abandoned them to their fate.
"This shows, not only, a total disregard for any animal living in Loch Tayside, whether it be wild, farmed or domestic, but also a flagrant lack of care for their own dogs."
The force as appealed to anyone with information about the dogs for the "carnage" they caused to contact them.