Ninewells Hospital ward's colour makeover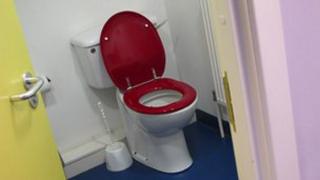 NHS Tayside is to spend more than £1.3m redesigning wards to make them easier to use for elderly patients and those with dementia.
The revamp includes colour-coding areas and installing pictorial signage.
Health bosses said the changes would benefit all patients, but particularly those with cognitive problems - such as dementia - and the visually impaired.
The first phase of the project will see a prototype ward created at Ninewells Hospital in Dundee.
This will cost £335,000, before £1m is spent implementing the changes at other hospitals across NHS Tayside.
Infection control
Experts at Stirling University's Dementia Services centre were consulted over the changes, which are deigned to help people feel more comfortable in an unfamiliar environment.
Colour and contrast will be used to highlight important areas and disguise rooms which are not for public access, like sluice rooms and kitchens.
Bathrooms will also be redesigned to make them easier to use and large analogue clocks will indicate whether it is day or night.
NHS Tayside said the project would also help with infection control measures.
About 60 wards in hospitals across Tayside will be revamped if the prototype at Ninewells - due to be made over the next few weeks - is deemed a success.
Sandy Watson, chairman of the board of trustees, said: "Currently, across Scotland, there is no statutory format for a ward environment and today's decision by the board of trustees will allow us to test out a whole ward design prototype which we believe will benefit patients and their carers and families, as well as staff, tremendously.
"The public give very generously to our endowment funds and this project is another example of how their generosity can work to benefit patients by transforming the environment in which they are cared for, making their experience of care very much more specific to their needs."
The Ninewells ward will be assessed by March 2012. NHS Tayside said changes at the other hospitals would take about 12 months.