Enchanted Forest breaks ticket sales record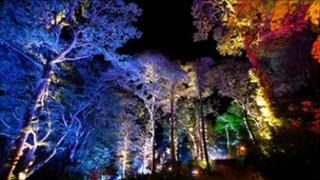 Ticket sales for The Enchanted Forest have broken all previous box office records, according to the company behind the event.
More than 24,000 visitors are expected at Perthshire Big Tree Country event during its 23 night run in Pitlochry.
The attraction has also been shortlisted for two awards.
This year's event, which began on 7 October and runs until 29 October, is being held in the Explorers Garden in Pitlochry for the first time.
Eddie Thomson, chairman of the Highland Perthshire Area Community Interest Company, which has successfully run the show since 2010, said: "This year has seen unprecedented demand for the event and the box office has been working around the clock to ensure everyone gets their tickets.
"This is fantastic news for the local area - with a 25% increase in visitors coming to the show this year, over half of which stay in the area overnight.
"It represents an enormous boost to the income of businesses in the area, from shops to restaurants to hotels."
The latest figures put the event well ahead of the record breaking 20,000 tickets sold in 2010.
The year's theme, Transitions, was designed by Simon Wilkinson and RJ McConnell.
The Highland Perthshire Area Community Interest Company has been shortlisted for the Community Award in this year's Perthshire Big Tree Country Awards.
The Enchanted Forest has also been shortlisted for Event of the Year at this year's Perthshire Chamber of Commerce Business Star Awards.