Stirling searches for new motto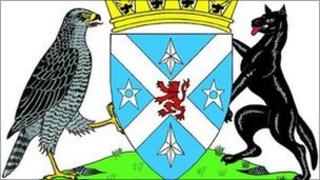 Stirling Council is searching for a phrase that "sums up" the area and its people to adorn the county's coat of arms.
The local authority said it wanted to rectify the fact that the arms - which feature a goshawk and a wolf - currently had no motto.
People in Stirling have been asked to choose between "Steadfast as the rock" and "Heid high and gang forrit".
Stirling's coat of arms was granted by Lord Lyon King of Arms in 1997.
Wolf legend
Provost Fergus Wood said: "One of my proudest duties is to welcome visitors from around the world to Stirling, and that often includes showing people around our council chambers at Viewforth where the civic coat of arms is on display on the wall.
"There's a great story behind why we have a wolf on our crest that everyone enjoys, but visitors often ask if there's a Stirling motto, too."
The wolf on the crest comes from a 9th Century legend that a howling wolf saved the town from a Viking attack.
"Steadfast as the rock" and "Heid high and gang forrit" were chosen as options after advice from local historians and writers, as well as constitutional experts.
Guidance was also given by Dr Elspeth King, the director of Stirling Smith Art Gallery and Museum.
Stirling Council said the consensus was the motto should be in English or Auld Scots, though it may be appropriate to translate it into Gaelic on occasions.
Voting slips will be included in the winter issue of Stirling magazine, or a preference can be simply emailed to communications@stirling.gov.uk.