Ex-MP ousted in Dundee advice bureau gay marriage row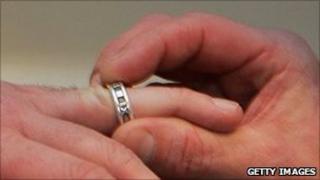 Former SNP leader Gordon Wilson has failed in his bid to be re-elected to the board of Dundee's Citizens Advice Bureau.
Members withdrew their support from Mr Wilson over concerns about his outspoken criticism of gay marriage.
The 73-year-old is chairman of Dundee-based Christian faith group Solas, which is calling for a referendum on same-sex marriage.
A Scottish government consultation on the issue was launched this month.
In a statement, the director of Dundee Citizens Advice Bureau, Mary Kinninmonth said: "It's sad that the tremendous achievements and work of Dundee CAB has been overshadowed by an issue which called into question its commitment to equality of opportunity.
"The board of trustee directors is keen to confirm that it is fully committed to the aims and principles of the Citizens Advice Bureau and equality of opportunity for all. The work of the bureau remains unaffected."
'Attack on marriage'
Mr Wilson, who was Dundee East MP from 1974 to 1987, denied a statement by the CAB that he had resigned from his position and said that he had wanted to be re-elected.
He told BBC Scotland that members of CAB were guilty of "religious discrimination" against him because of his belief that no government had the right to "redefine" marriage.
"I'm rather saddened that they have discredited their own organisation," he added.
Solas joined forces with the Free Church in calling for the same-sex marriage referendum.
The group argues that what it calls "this attack on marriage" is a violation of the human rights of traditional married couples under UN and European law.
Currently, same-sex couples can obtain legal recognition of their relationship through entering into civil partnerships but the ceremonies may not take place in religious premises and can only be registered by civil registrars.