Hydro plan for Glen Cailliche pagan site shelved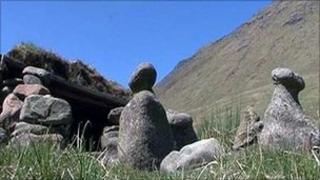 An ancient shrine of stones has been preserved after proposals for a hydro scheme nearby were dropped.
Owners of the Auch Estate in Glenlyon, Perthshire, had lodged plans for four run-of-the-river projects, including Glen Cailliche where the stones are.
History enthusiasts feared they would affect the setting of Tigh Nam Bodach.
But it has emerged landowner Adam Besterman withdrew the Allt Cailliche planning application last month, shortly before his death aged 51.
The project would have brought construction traffic to within yards of the site near Loch Lyon.
Three weathered sandstone rocks representing an old man, woman and their daughter are believed to have been used in a pre-Christian ritual.
According to myth, it is said that "strange and terrible" things will happen to anyone who disturbs the peace of the three ancient carved stones at Tigh nam Bodach.
The other schemes elsewhere on the Auch Estate still await Perth and Kinross Council planners' consent.