Man smuggled python out of Dobbies Garden Centre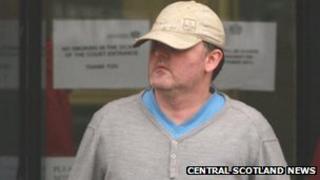 A man who stole a python from a garden centre by smuggling it out in a chest pocket of his sweater has been jailed for four months.
Anthony Quinn, 41, took the snake from Dobbies Garden Centre near Stirling during a Christmas shopping expedition.
He was questioned by suspicious staff who had seen him fiddling with the locks on the snake's cage, but managed to walk out and drive off.
The non-venomous royal python, worth £75, has never been found.
Stirling Sheriff Court heard Quinn, from Edinburgh, had been out shopping for Christmas presents with his friend Scott Cruickshank when the theft occurred.
Kevin Corrins, prosecuting, said the pair had been in the aquatic section of the garden centre at about 16:30 on 19 December 2010.
The depute fiscal said: "A shopper became aware of the two accused both being within the store.
"They heard a crack and saw Quinn open one of the cages and put something from within the cage into the front pocket of his top.
"The shopper advised members of staff what he had witnessed. A member of staff then approached Quinn and asked what he was doing. He said that he 'wanted to see how the cages opened'.
"He then left the shop, got into a car and drove off."
The court heard Mr Cruickshank was then accused of being involved in some way, and began "making a scene".
Two members of staff asked him to leave before checking the cage and finding the royal python missing.
Jim Stephenson, defending Quinn, said his client had a "serious alcohol problem".
Before sentencing, Sheriff Wyllie Robertson asked: "How dangerous is this snake? It's not within my judicial knowledge but I certainly wouldn't want one in my front pocket."
The animal, which may have grown from half-a-metre long to more than three feet, was described as "quite shy".
Cruickshank, 38, also from Edinburgh, admitted admitted breach of the peace and was fined £450.