Warning over Tayside and Fife deer poaching surge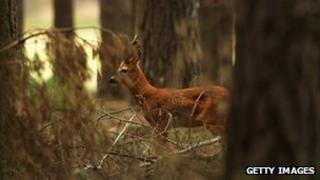 Deer coursers caused a group of the animals to run into traffic on a busy dual carriageway in an attempt to escape, police have revealed.
The deer were spotted weaving between vehicles on the A92 in Fife.
Officers in Fife and Tayside have warned of a surge in deer poaching and coursing, as longer nights give more cover of darkness.
A police action group said poachers were "unscrupulous and ruthless criminals".
'Cruel death'
The two forces have joined up with the Scottish SPCA and the British Association for Shooting and Conservation to carry out weekend patrols in a bid to catch the poachers and coursers.
Fife Constabulary wildlife crime co-ordinator PC Ian Laing said: "We sometimes see an increase in poaching and coursing at this time of year because game is more evident in fields in which the crop has been harvested, and there are more hours of darkness.
"We suspect poachers are generally looking to make quick money by selling the venison, while the coursers mostly send their dogs to chase the deer for sport.
"In both cases, although particularly coursing, the deer are likely to suffer a cruel death."
PC Laing appealed to the public to report any suspicious activity, especially unfamiliar vehicles or people, as well as torches being flashed around fields at night.
Douglas McAdam, chairman of a police group on poaching and coursing, added: "It is imperative then that those living and working in rural areas are switched on and aware of this illegal activity and act as the eyes and ears of the police on the ground."