Paedophile Brian Dick kept 'conquest list'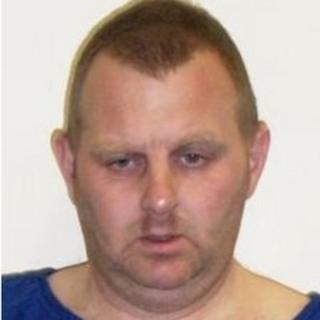 A predatory paedophile who repeatedly raped a taped up primary school girl was also found with a "conquest list" including the names of underage girls.
Brian Dick, 41, raped the girl when she was aged 10 and 11 at his then home in Maddiston, Falkirk. He taped her mouth during the assaults, a court heard.
Police found the list when they carried out a search of his home.
Dick denied raping the girl, but was found unanimously guilty of the crime after a trial.
The High Court in Edinburgh heard that the offences took place between March 2008 and August 2009.
He was also convicted of other indecency offences against the child he raped, as well as further indecency charges against three more underage girls between 1991 and 2005.
The rape victim, whose evidence was shown to jurors on screens, told the court the first time he sexually assaulted her she was in primary five or six.
She said she was tied up with duct tape and added: "The second time my feet never got done. It was just my hands and my mouth." She said the assaults had occurred more than once.
Pornographic images
The youngster was interviewed by police but wrote down many of the details. She said: "It was embarrassing telling them what he was doing to me."
The girl, now 13, wrote: "Brian has been having sex with me."
She said another man had sex with her and was told that if she tried to scream she was going to be killed "or something like that".
The girl also said that during the assault Dick, a former lorry driver, was playing with her hair and telling her to keep calm. And she told the court she had seen pornographic images at Dick's home on a computer.
Dick had denied the rape and other offences, but did not give evidence at his trial.
Advocate depute Tim Niven-Smith pointed out to the jury that the "hit list" found at Dick's home had featured the names of other girls who had appeared on charges in the case.
He said: "You can legitimately infer it is a conquest list. Unpleasant as that may be it seems he keeps a list of people he has had sex with."
Judge John Morris QC placed Dick on the sex offenders' register, but deferred sentence on him for a background report and risk assessment.
Dick, who was previously on bail, was remanded in custody.
Following the verdict, Det Insp Pat Scroggie, who led the investigation, said: "This has been a pain-staking investigation which lasted two-and-a-half-years and involved working closely with other forces and other agencies.
"The abuse these children suffered was horrendous and dated back over two decades. This investigation shows that we will leave no stone unturned to trace such abhorrent and dangerous people."