Scottish bowel screening success claimed by study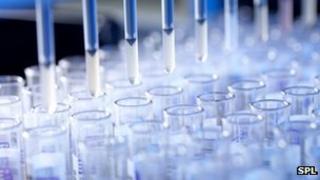 Bowel screening reduces the number of deaths from bowel cancer by 27%, according to researchers in Scotland.
The study, which was funded by the Scottish government's health department, looked at the health outcomes for people who had been sent the home testing kit.
When bowel cancer is detected at the earliest stage, 90% of patients survive for at least five years.
After the disease has spread, the survival rate is just 6%.
The research is said to be the first to show the real impact of using a faecal occult blood test (FOBt) in a population-based screening programme.
In Scotland, adults aged between 50 and 74 are sent an FOBt kit every two years.
The project looked at those who completed the test during a large-scale pilot programme.
The study's author, Prof Robert Steele, who is based at the Bowel Screening Research Centre in Dundee, said: "For the first time, we can see the effects of a FOBt-based colorectal cancer screening programme in the real world of the NHS."
The results of the Scottish research were presented at the National Cancer Research Institute's (NCRI) conference in Liverpool.
NCRI Director Dr Jane Cope said: "These figures are evidence that the bowel cancer screening programme is helping to lower the number of deaths from the disease.
"It's expected that when all of the national screening programmes across the UK have been up and running for a couple of years, similar results will be seen for the whole of the UK."