Dog to be put down for attacking cat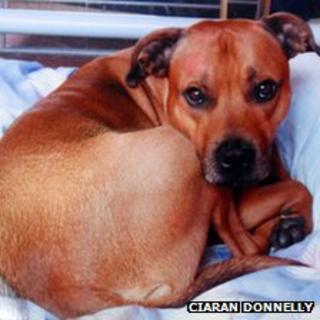 A judge has ruled that a dog which attacked a neighbour's cat, causing it serious injuries, should be put down.
Tracy Jackson, 35, from Dundee, took the case to appeal after a destruction order was imposed on her Staffordshire bull terrier for leaving the cat with a broken leg, jaw and sternum.
Miss Jackson argued that the dog, C-Jay, was following its instincts when it bit the cat after escaping from her garden.
But Lord Bonomy refused the appeal.
Tracy Jackson said after the case that her 15-year-old daughter Emma would be "totally gutted".
She said: "I have been thinking positive. I have been saying he is coming home. She has been thinking positive as well."
Miss Jackson had admitted an offence under the 1871 Dogs Act, that C-Jay had not been kept under control.
Justice of the Peace Robin White was told at the original hearing that the dog was discovered in the garden with the cat in its mouth.
Defence counsel Chris Shead had argued that, as an alternative to ordering the dog be put down, an order to keep it under control could be made.
He said: "There is not the slightest suggestion this dog had a propensity to violence.
"In the present case the victim of the attack was a cat."
Mr Shead added that it may well be "within judicial knowledge that, from time to time, dogs attack cats".
'Draconian order'
He went on: "All this dog did was follow its nature and attack a cat. It does not pose any threat to public safety.
"We are talking about the destruction of the animal. It is as fundamental a step as can be taken.
"What we are dealing with is an irrevocable, fundamental and draconian order that should only be taken when necessary."
Lord Bonomy, who heard the appeal with Judge Brian Lockhart, said: "The information before the justice was that the same dog had previously been found in the street and that had been drawn to the appellant's attention."
He said against that background and when faced with the circumstances of the event that gave rise to the charge he was entitled to consider a control order would not be adequate and to make an order for destruction.