No penalty for Comrie father who assaulted bully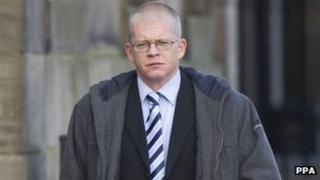 A father who grabbed a nine-year-old bully by the scruff of the neck has been granted an absolute discharge.
The boy came to Simon Humphreys' door at his home in Comrie, Perthshire, and began taunting the 38-year-old after a run-in with his son.
Mr Humphreys eventually lost his patience, took the boy by the collar and marched him to his gate. He was charged with assault.
The court heard there was a background of bullying of the son in this case.
Sheriff Lindsay Foulis' decision to let Mr Humphreys, who has no previous convictions of any kind, escape any punishment was greeted with a burst of applause on the public benches at Perth Sheriff Court.
The sheriff said it was a sign of the times that he had been charged with assault for an act which would have been the norm a few years ago.
Swing row
He said: "It strikes me that not so long ago this sort of incident would never have seen the light of day. It would have been viewed as something that happens on occasions.
"It certainly wouldn't have troubled a court of law. I say that without criticising the procurator fiscal's office because they have to deal with things in a different environment now.
"It strikes me that it is the duty of the court to take an appropriate view. There was a background in this case of bullying of your child."
The court was told the boys had been fighting earlier in the day after a row about a swing and that Mr Humphreys and his wife had punished their son by sending him to his room.
"Then the perpetrator comes to the door and is behaving aggressively, pointing at you, and is not prepared to leave despite you asking him to on several occasions," the sheriff added.
"You put a hand behind his neck and pushed him to the gate. In these circumstances I consider it wholly appropriate to grant an absolute discharge."
The court heard the father accepted he had assaulted the boy at his home on 27 June because he had put a hand on him to push him out of the garden.
Police were called after the boy - who was aware the incident had been witnessed by other people - told his parents what had happened.
Outside court, Mr Humphreys said: "I regret the whole thing and I'm glad it's over. We live in a small village and don't want to say anything else."