Driver drank vodka and cider on A9 car journey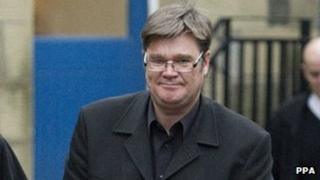 A man caught drunk in a car littered with empty cider cans had just finished a drink drivers' rehabilitation course, a court has heard.
Robert Marshall, 47, claimed he had drunk a quarter of a bottle of vodka and several cans of cider while driving to avoid getting "the shakes".
He was caught driving erratically on the A9 on a 100-mile (160km) journey from Glasgow to Arbroath.
He was jailed for four months and banned from driving for six years.
Perth Sheriff Court heard Marshall, from Letham Grange in Angus, had been banned from driving for a year on 25 October 2010, but had got his licence back three months early after completing the rehabilitation course.
He had pulled into a lay-by on 16 October after finishing all of the vodka and cider he had bought for the journey, and was found to be approaching four times the drink drive limit.
Fiscal depute Stuart Richardson told the court that numerous drivers called the police because they were concerned about the way Marshall's car was swerving back and forth on the busy road during evening rush hour.
"Police arrived just as he swerved into a lay-by. He was clearly drunk and several cans which had once contained cider were rolling around the foot well. An empty quarter bottle of vodka was also found in the car," he said.
'Set example'
Sheriff Lindsay Foulis noted that Marshall had spent the weekend binge drinking with friends in Glasgow and had told social workers he consumed "a lot" but could not remember how much.
"He had not drunk for four hours but consumed a lot of water and thought it would be OK to drive. If there had been any thought he would have known he was unable to drive.
"This man was disqualified previously for drink driving and had been on a rehabilitation course. Not only has he had a bucketload by his own account, but he's been on a course that tells people how long it takes alcohol to run through their system."
Sheriff Foulis said he had no option but to jail Marshall, who admitted drink driving, to set an example to other road users.