Perth man illegally tattooed schoolgirl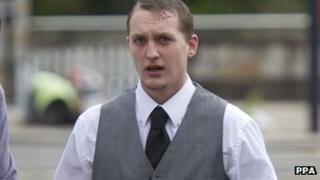 An amateur tattoo artist tattooed a schoolgirl despite being forbidden from getting one by her mother, a court has heard.
The 16-year-old paid £40 to Kevin Brown, 26, to have a large Celtic design inked across her stomach.
A sheriff was told several under-age youngsters had been tattooed by Brown and that the girl was aware he would not ask questions about her age.
Brown, from Perth, admitted tattooing someone under 18 on 28 March this year.
Perth Sheriff Court heard the girl involved had been banned by her mother from getting a tattoo as a "memorial" to her former boyfriend who had died in a car crash.
But Brown used his own equipment at his home to draw a permanent Celtic cross, with the name Ricky on it, on the teenager's midriff.
Brown claimed he was pursuing "a hobby" but still charged the schoolgirl.
The court was told that Brown - who did not have a licence to work as a tattoo artist - carried out the elaborate design just four days after the teenager's 16th birthday.
Fiscal depute John Malpass said: "She was aware that a group of friends of the same age had had tattoos administered to them by the accused. The accused made no inquiry in relation to her age.
"Her mother found out about this and made her own inquiries and realised that tattooing a person under 18 without permission was an offence. Police were contacted."
In a letter to court, Brown claimed he had not charged a fee and admitted he had done a number of illicit tattoos.
He said: "I do have sterilisation equipment for barrels used for tattooing, e.g. ultrasonic cleaner and dry heat autoclave.
"I also have used fresh needles every time and did not charge as it was a hobby. I can provide details of wholesalers."
Sheriff Robert McCreadie said: "Many people of that age are immature and make impulsive decisions which they bitterly regret later.
"The age of 18 is set to reflect the immaturity of young people and the peer group pressure they face."
The sheriff fined Brown £180.