Pair 'neglected' girl left alone in Callander flat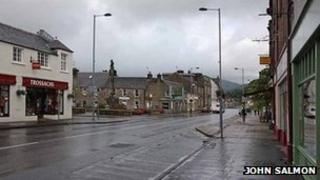 A couple left a five-year-old girl alone in a flat all day when they were supposed to be caring for her, a court has heard.
Marek Milewski and Sabina Piechocka told the child they would phone her every 15 minutes - but she let herself out and went to search for them.
She was eventually spotted by police wandering along the busy A84 near the flat in Callander, Stirling.
The pair pled guilty to wilfully neglecting the child.
Stirling Sheriff Court heard that Milewski, 29, and Piechocka, 24, had both gone out to work on 2 May 2011 - the May Bank Holiday.
Kevin Corrins, prosecuting, said two police officers patrolling the road at the time of the incident "became concerned" when they saw the girl walking alone on the grass verge.
Hotel worker
The depute fiscal said: "At about one in the afternoon police witnesses were travelling along the A84 in a marked police car when they saw a child running and walking along the grass embankment.
"Police were immediately concerned and the child appeared to be unsupervised. They stopped the vehicle and took the child to the premises known as the Trossachs Woollen Mill.
"They spoke to the child and she advised that she was on her own."
Mr Corrins said the officers found out Piechocka worked in a nearby hotel and contacted her and asked her to come to the mill at Kilmahog. Both the accused arrived about 20 minutes later.
He added: "At the time of the incident the officers indicated that the road was extremely busy as it was a Bank Holiday weekend and the distance the child needed to walk to get to Piechocka was around 1.5 miles."
'Serious matter'
The couple, representing themselves through a Polish interpreter, told the court they believed security doors on the property would keep the child safely inside the flat.
Sheriff William Gilchrist said social work reports showed the couple had tried to make arrangements for an alternative person to look after the child, but had not managed it.
He said: "You took the view that because of the door entry system that she couldn't get out. But you were going to leave her alone for three hours.
"I'm sure you are aware of the legal and practical importance of not leaving her alone and this won't happen again.
"But this is a serious matter so I will impose a fine on you both of £300."