Tayside Police officers deny sticky tape attack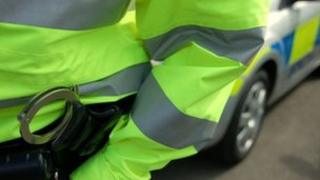 A woman has told a court how a male police officer handcuffed her to a window in a "crucifix position" - then wrapped sticky tape around her head.
Arlene Pattie said she was "humiliated" by the actions of Tayside Police officer George Stewart.
The incident is said to have taken place in the office of East Port House bail hostel in Dundee, where she works.
PC Stewart, 35, and fellow officer Shirley Tindal, 39, deny assaulting Mrs Pattie on 20 July 2010.
Dundee Sheriff Court heard Mrs Pattie had been on duty at the hostel, in Dundee's King Street, when she was told police were coming to arrest a resident.
Mrs Pattie said PCs Stewart and Tindal - whose addresses were both given as care of Tayside Police HQ in Dundee - arrived earlier than expected and she told them which resident they were to arrest.
She said she then told PC Stewart the resident had been complimentary of him after the woman had made an allegation of a sexual assault that was dealt with by him.
Mrs Pattie said Stewart then replied: "Are you checking up on me?"
'Absolutely petrified'
Seconds later she said he grabbed her by the wrist and handcuffed her - before attaching that handcuff to a window overlooking the busy street below.
She said PC Steward then asked PC Tindal: "Let me see your cuffs."
Mrs Pattie said PC Stewart returned and grabbed her other arm - and claimed he twisted it up her back before cuffing it to the other side of the window.
She said she had been placed in a "crucifix" position with her hands above her head. Mrs Pattie told the court she was "absolutely petrified" by the officer's actions.
"He was sitting on the desk playing with the roll of tape. He then started rolling it round my head," she said.
"It was down over my nose - that was what frightened me the most. The tape came to the top of my lip. I was completely humiliated."
Advocate Susan Duff, defending PC Stewart, asked Mrs Pattie if she had been "flirting" with Stewart.
She asked: "Isn't it the case that what took place in that office was just a carry-on between two consenting adults?"
Mrs Pattie replied: "That is so untrue. I vomited and became hysterical when they left.
Wrist 'indentations'
"When the tape was around my face I made it very obvious that I was distressed."
Mrs Duff asked if it was the case that her glasses had been falling off while she was handcuffed - and that Stewart had simply offered to "Sellotape them back on".
Mrs Pattie answered: "That's absolute nonsense."
Mrs Duff asked if Mrs Pattie had been "consenting" to Stewart handcuffing her and taping her.
She replied: "I would never allow myself to be handcuffed and taped up in such a way at my place of work."
The court was shown pictures of Mrs Pattie's wrists following the alleged attack - which appeared to show deep indentations in her wrists, apparently caused by the handcuffs.
The trial, before Sheriff Richard Davidson, continues.