Woman alleging PC sticky tape attack 'had cop fetish'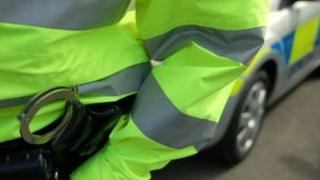 A woman who alleges a police officer handcuffed her and wrapped sticky tape round her head had once told the accused about a "cop fetish secret", a court has heard.
Arlene Pattie posted the messages to PC George Stewart on a social network site in early 2009, a defence lawyer said.
The handcuff incident is said to have taken place at a bail hostel in Dundee.
PC Stewart, 35, and fellow officer Shirley Tindal, 39, deny assaulting Mrs Pattie on 20 July 2010.
The male officer is accused of handcuffing 47-year-old Mrs Pattie in a "crucifix" position at the East Port House bail hostel where she worked.
Dundee Sheriff Court heard on Thursday the Tayside Police officers had gone to arrest one of the residents.
Marie Cutler, 44, said she and fellow social care officer Mrs Pattie were on duty at the hostel when the pair arrived.
Mrs Cutler said she was talking to PC Tindal while PC Stewart chatted to Mrs Pattie - when she overheard Mrs Pattie say: "Are you going to arrest me?"
She said she then saw Stewart grab her arm and handcuff it to a window.
"It was strange, but at the time I thought it was just meant as a joke," Mrs Cutler told the court.
She said the officer had then taken PC Tindal's handcuffs and used them on Mrs Pattie's other wrist.
"He took her hand and kind of twisted it up and handcuffed her to the window. I felt very uncomfortable and awkward - I didn't really understand what was going on," Mrs Cutler said.
Bebo messages
The care officer said PC Stewart had then wrapped the sticky tape so tight around her colleague's head she could only get it off with scissors.
She added: "After it came off she walked very fast out of the room with tears in her eyes. When they left she came back crying and had to be sick.
"She told me 'I thought I was going to die'."
Susan Duff, defending, read a string of messages posted on Bebo by Mrs Pattie to PC Stewart.
One posted in early 2009 - about 18 months before the alleged attack - referred to PC Stewart "uncovering" Mrs Pattie's "cop fetish secret", while another read: "Just remember your handcuffs."
Mrs Duff asked the witness: "It would seem the implication is that Mrs Pattie was happy for George Stewart to bring cuffs to the office for a bit of horseplay?"
Mrs Cutler replied: "That is none of my business."
Officer 'appalled'
The court was also shown a video recording of PC Tindal's interview with police over the allegations.
She told senior officers that she had not wanted to "get involved" with Stewart's "antics" - and that she had spotted that Mrs Pattie was "distressed" when Stewart put the tape on her head.
Det Insp Ally Waghorn, who was interviewing her on the tape, said to her: "For you to say 'I didn't want any part of it' - that doesn't exist in our job.
"The fact that you didn't bothers me. How do you feel about the incident now?"
She replied: "Appalled."
The trial, before Sheriff Richard Davidson, will continue on 20 December.