Strike hits Tayside and central Scotland services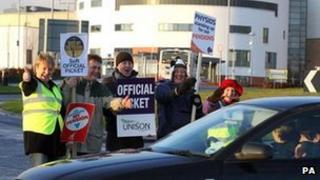 Strikes by public sector workers are causing major disruption to services across central Scotland and Tayside.
All schools and nurseries have been closed by the action and hundreds of appointments cancelled in the region's hospitals.
Rubbish collection has also been delayed or cancelled in Clackmannanshire, Dundee, Falkirk and Perth and Kinross.
An estimated two million workers across the UK are striking.
The action comes in the wake of UK government plans to increase the amount of money public sector workers pay into their pension, raise the age of retirement and introduce career-average pensions.
NHS Forth Valley said all non-urgent routine appointments had been rescheduled, with possible disruption to clinics.
About 800 appointments at NHS Tayside hospitals have also been cancelled, but both the health boards said emergency and essential services would be provided.
All the councils across the region said they would be attempting to maintain child protection, emergency social care and other high priority services.
However, other council-provided services are likely to be severely disrupted, the authorities warned.
The only council across Tayside and central Scotland that is unaffected is Angus Council, which takes St Andrew's Day as a holiday - so schools and other council facilities would be closed anyway.
A picket at the Department for Work and Pensions office in Dundee said the lowest paid were being hit the hardest by the government's measures.
Alan Hinrichs, an official with the PCS union, said: "Our mood is one of absolute resolve.
"We just won't stand for this grand theft of pensions, particularly in light of the chancellor's wage freeze - or wage cut - yesterday of 1%."
But the UK government has said the changes were needed to stop the pension system going broke.