Stirling Council to stop winter brown bin collections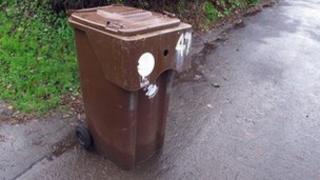 Brown bin collections of garden waste are to be suspended between December and February from the end of next year, a local authority has announced.
Stirling Council said the decision would mean a 15% reduction in waste collection journeys and a "personnel saving" of two or three drivers.
Cardboard collection will continue every fortnight during winter months.
A proposal to make garden waste collection monthly throughout the year was rejected after a consultation.
Stirling Council said the decision - taken by a full council meeting on Thursday evening - made sense as very little garden waste was generated during winter months.
Cardboard value
The authority hopes it will also allow them to make more money from selling recycled cardboard now it is being collected separately.
"There's a value in collecting cardboard separately, but more often than not, the cardboard in brown bins has been contaminated by garden waste," a spokeswoman said.
"We also hope that the value of cardboard will go up over time."
The scheme will be piloted in the Causewayhead area of Stirling this winter, before being enforced in the rest of the county in December 2012.
Garden waste will not be collected from 1 December till 28 February - but cardboard can now be put in blue recycling bins, or crushed and placed under the box.
The council said residents could request an extra blue bin if they needed it.
A consultation on bin collection was carried out with community councils in Stirling over the summer.
"Every council in the UK is getting people to reduce their waste," the spokeswoman added.
"We are trying to get people to recycle as much as we can, but it takes ages to change people's habits."
Black bin collection of general waste would be unaffected by the changes, the council confirmed.