Dundee dog attack girl had 'gaping' wound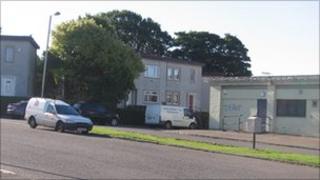 A jury has heard the details of the severe injuries suffered by a 10-year-old girl after an attack by three Rottweilers.
Sarah Kerr and Derek Adam are on trial accused of owning and being in charge of the dogs, named Rocky, Pretty Girl and Fat Boy.
The animals attacked the girl in a Dundee street in August 2010, leaving her with "gaping" wounds.
Ms Kerr, 34, and Mr Adam, 39, both deny the charges against them.
Dundee Sheriff Court also heard from a dog walker who told the trial how the three dogs had pounced on his animal just minutes before the girl was allegedly attacked.
In a document of agreed evidence read to the jury at the start of the trial, the court heard of the injuries suffered by the schoolgirl, who cannot be named for legal reasons.
The girl had multiple bite wounds on her legs, arms and face - suffering a broken jaw, a three-inch wound on her leg and skin hanging off her ear.
Puncture wounds
Dundee Sheriff Court was told: "At 11:27 hours on 29 August 2010 the girl was taken to Ninewells Hospital, Dundee, where she was treated by Dr Brodie Charles Paterson for dog bite injuries sustained that day.
"She was found to have a bilateral fracture of the lower mandible - a broken jaw - a puncture wound below the right corner of her mouth, two wounds in front of her left ear, a small flap hanging off her ear and four small wounds behind her left ear.
"Her left thigh had an approximate 8cm (3.15in) wound, gaping in nature, her upper right arm had wounds on both sides of her arm."
Jurors heard the injuries on her arm were surrounded by small puncture wounds consistent with tooth marks.
The girl suffered at least 11 puncture marks on her arm and three bites to her thigh. The arm bites were into muscle.
Doctors at Ninewells Hospital continued to treat her for her injuries until 26 October 2011, the court heard.
The statement added: "All of the injuries have resulted in permanent scarring and permanent disfigurement."
All three dogs were handed over to police the day after the attack. They were destroyed at a Dundee City Council kennel on 30 August.
Sean Gaffney, 40, told how he took his German Shepherd cross for a walk in Camperdown Park and was returning to his home near Ms Kerr's when they came across two Rottweilers and a puppy.
Mr Gaffney told the court that the three dogs chased his pet into a neighbour's garden.
He added: "They got hold of him and bit him - he had puncture wounds on his leg.
"My neighbour managed to get him in the house and I got a brush from the garden and chased them out the gate.
"I went to Miss Kerr's house because I recognised the puppy as hers - she was shocked."
Proper control
Ms Kerr, whose address was given as care of Muir, Myles and Laverty solicitors in Dundee, denies being in charge of the dogs whereby they were dangerously out of control in Linton Street, Dundee, on 29 August last year.
It is alleged the dogs attacked another dog - before repeatedly biting and mauling the girl to her severe injury, impairment and permanent disfigurement in the city's Dryburgh Street.
Mr Adam, from Dundee, denies being the owner of the dog which attacked the girl.
He further denies failing to comply with an order made at Dundee's Justice of the Peace court on 3 March last year to keep two of the dogs under proper control.
The trial, before Sheriff Richard Davidson and a jury, continues.