Maciej Hetmanski jailed for 'horrific' murder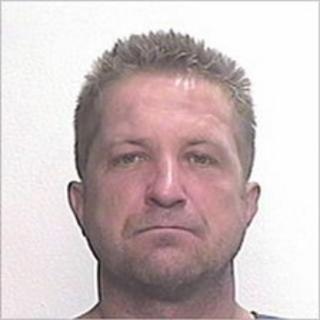 A man has been jailed for life for murdering his estranged partner in a "horrific" knife assault witnessed by the couple's young children.
Maciej Hetmanski, 39, inflicted 45 wounds on Aleksandra Korkus during the attack at his Perth home in June.
The mother-of-two was left in a pool of blood, with her two-year-old son and five-year-old daughter beside her.
Judge Lord Turnbull said "no words" could describe the trauma suffered by the children.
He ordered that Hetmanski should serve at least 15 years in prison for the "despicable" crime. The car mechanic, originally from Poland, had earlier admitted killing the 28-year-old.
At the High Court in Edinburgh, Lord Turnbull told him: "No words can convey the extent of the trauma which was caused to your young children by witnessing the horrific murder or their mother."
'No mitigation'
Police were called to the house in Firbank Road, Perth, on 16 June after reports of a disturbance. When they arrived, officers and ambulance staff discovered Miss Korkus lying a pool of blood.
The judge said: "I accept entirely you were very upset and emotionally distraught as a result of the realisation that your partner no longer wished to live with you.
"However, no one adult has the right to determine the life of another. Your former partner had the right to live in a relationship of her choice and to terminate that relationship should she wish to do so."
He added: "Grief, upset and despair at the end of a relationship cannot count as any form of mitigation for a murder during which your victim was stabbed 45 times while desperately trying to defend herself."
The couple's children are now being cared for by the victim's sister.
The court heard that Hetmanski had a previous conviction for a domestic assault on his victim, which resulted in him being fined £150.
Advocate depute Susanne Tanner said the couple had been together for nine years, but had split up in May 2009 at the request of Miss Korkus, known as Ola.
Miss Korkus moved to a different house in Perth after the separation, although the couple continued to share care of the children.
On the day of the murder, the advocate depute said a neighbour had gone into Hermanski's home after she heard shouting and screaming.
Mrs Tanner said: "Both the accused and Miss Korkus were in the children's bedroom at the end of the corridor. The accused was standing at the door of the bedroom facing Miss Korkus and holding a knife in his hand."
Her daughter was crouched on the hall floor screaming 'help my mummy', while Miss Korkus was screaming: 'Call the police, call the police'."
When the police arrived they found Hetmanski coming out of the bedroom with blood on his hands and clothes.
Despite emergency medical attention, Miss Korkus died in the ambulance on the way to hospital.