Dundee dog trial accused defied driving ban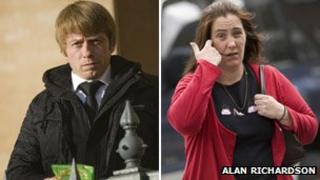 A man accused of owning three dogs who mauled a schoolgirl has told a court he took a car from his work to get to the attack scene - despite a driving ban.
Derek Adam - who was at the time disqualified for drink driving - had been valeting the car when he said he heard the Rottweilers had escaped.
The girl seriously injured in the attack in Dundee in August 2010.
Mr Adam, 39, and his ex-partner Sarah Kerr, 34, deny owning and being in charge of the Rottweilers.
He told Dundee Sheriff Court that his 13-year relationship with Ms Kerr had hit the rocks after she caught him cheating with another woman.
But he said at the time of the attack that they were attempting to reconcile and that he had moved back into the family home in Dundee's Linton Road.
Permanent scars
Mr Adam told the court he had no doubt Ms Kerr was in charge of the dogs at the time - and that she was a "fit and proper person" to look after the powerful animals.
The court has heard how the dogs - adults Fat Boy and Pretty Girl, and puppy Rocky - roamed the streets of Dundee's Dryburgh area before dragging the 10-year-old girl from her bike.
She was pulled into the middle of the road and repeatedly bitten, leaving her with permanent scars from bite marks, as well as a broken jaw and gaping wounds on her legs.
Giving evidence on day five of the trial, Mr Adam said he had been working in Dundee's Dudhope Coachworks at the time of the attack.
He said his son had called to tell him about the attack and he took the car he was working on to look for the escaped Rottweilers.
Mr Adam said he then found the adult dogs and Ms Kerr in Dryburgh Street - and picked them up and took them back to their home.
Bred Rottweilers
He said: "I ended up putting those dogs back in my house with my own children not knowing what those dogs had done.
"If I had known what they had done I wouldn't have cared about the fact I was driving disqualified - they would have been straight to the kennels there and then, no messing about."
Mr Adam added that he and Miss Kerr had bred Rottweilers at their home since 2004.
Ian Houston, defending Mr Adam, asked him: "Did it ever cross your mind that these are big powerful dogs - Sarah can't look after them?"
Adam replied: "Never - not for a second, she was fully capable."
Miss Kerr, from Dundee, denies being in charge of the three Rottweilers at the time of the attack.
Mr Adam, also from Dundee, denies being the owner of the dogs, as well as failing to comply with a control order made in March 2010 on two of the dogs.
The trial before Sheriff Richard Davidson and a continues.