Man guilty over Dundee Rottweiler attack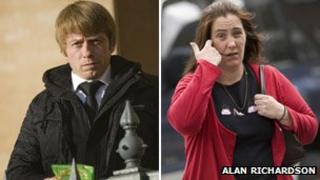 A man has been found guilty of owning two Rottweilers that savaged a 10-year-old girl in the street, leaving her with permanent scars.
Derek Adam's Rottweilers escaped from the garden of his ex-partner's Dundee home in August 2010.
They attacked another dog before pulling the girl from the bike and dragging her into the road.
The case against Sarah Kerr - who was accused of being in charge of the dogs at the time - was found not proven.
Dundee Sheriff Court heard during the six-day trial that Adam had left his three Rottweilers - adults Fat Boy and Pretty Girl and puppy Rocky - at Ms Kerr's home in Linton Road.
They walked through nearby streets after escaping, before Fat Boy and Pretty Girl attacked a German Shepherd cross as it was walked by its owner Sean Gaffney.
The dogs then came across the schoolgirl - who cannot be named for legal reasons - in Dryburgh Street as she cycled towards a relative's house.
Bite marks
The girl was seen smiling at puppy Rocky before being dragged from her bike into the middle of the road.
The two adult dogs then mauled her - biting her face, head, neck, arms and legs.
She was taken to Ninewells Hospital by ambulance where she underwent surgery to repair a broken jaw and treat "gaping" wounds on her leg.
The girl also suffered multiple bite marks to her neck, face and arms - while part of her ear was left hanging off.
Ms Kerr later told police she had no idea the dogs had even been at her home before the attack - claiming Adam, the father of her four children, had "dumped" them in her garden hours earlier.
But Adam - who was previously convicted after Fat Boy and Pretty Girl attacked a man outside their home - claimed Ms Kerr knew the dogs were there and that she was in charge at the time.
'Snarling beasts'
Ms Kerr, 34, from Dundee, denied being in charge of the three Rottweilers at the time of the attack. Adam, 39, and also from Dundee, denied being the owner of the dogs, as well as failing to comply with a control order made in March 2010 on two of the dogs.
But the jury took just 45 minutes to find Adam guilty of owning the dogs and failing to comply with the court order.
Fiscal depute Bill Kermode, prosecuting, described the dogs as "snarling, angry beasts that already had a taste for human flesh".
Sheriff Richard Davidson warned Adam he faces jail when he returns for sentencing in January.
He said: "This is one of the most appalling cases I have had the misfortune of hearing.
"Given the nature of the charges and the background it is difficult for me to see that there will be any other option than custody."
Speaking after the trial, the girl's mother said the family "got the result they wanted".
She said: "I hope Derek Adam gets a jail sentence - he owned the dogs and he knew they were dangerous.
"I hope he gets as bad a sentence as the sheriff can possibly give him - that's what I want."
The girl said she was now able to play sport again, more than a year after the attack.
She said: "I couldn't do that for a while but I'm glad I can now. And I can smile again."
Her mother added: "She had some facial nerve damage so she couldn't smile. Thankfully that has sorted itself out now."