Girl's face burnt in Perth pizza attack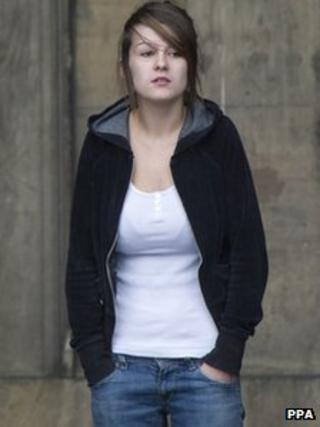 A 15-year-old girl collapsed in the street after being stabbed in the stomach and hit in the face with a scalding hot pizza, a court has heard.
The girl was "lucky" she did not suffer serious internal injuries during the assault in Perth, doctors said.
Her 17-year-old attacker, Kelly Reid, admitted causing severe injury.
Reid, from Falkirk, was not jailed, as the sheriff said he was "duty-bound" to find an alternative to custody because of her age.
She was 16 at the time of the attack on 20 June 2010.
Sheriff Michael Fletcher placed Reid on probation, telling her: "This was a very serious offence indeed because a knife was involved."
The 15-year-old victim, who cannot be named for legal reasons, suffered burns to her face when melting cheese stuck to her skin after a hot pizza was thrown at her moments before she was stabbed.
Fiscal depute Robbie Brown told Perth Sheriff Court the attack followed an earlier altercation.
"The complainer felt a pain in her stomach and lifted up her top. Her friends started screaming, having seen the wound. An attempt was made to apply a scarf as a tourniquet as she slumped to the ground," he said.
"The injuries were not life-threatening but the doctor described her as quite lucky there was not more serious injury, given what had happened to her."
'Emotionally fragile'
Reid admitted assaulting and severely injuring her victim by stabbing her with a knife. Other charges, including assault with a hot pizza, were dropped by the Crown.
Solicitor Murray McAuley, defending, said his client had been drinking with her brother, who had given her the knife to look after when he decided to go to a nightclub.
"There was an altercation and both sides would have different versions of events. There is no doubting the extreme seriousness of this offence," he said.
"She presents herself as emotionally very fragile. She found herself at the centre of a conflict and took a disastrous course of action. If she does escape a custodial sentence she would be extremely lucky."
Sheriff Fletcher said it was the type of offence that would normally be heard before a jury and would lead to a custodial sentence of more than a year.
However, he said: "I am looking for an alternative to custody because this is a person who was 16 and is a first offender. I am duty bound by statute to look for an alternative."