Tayside detective sent obscene messages about children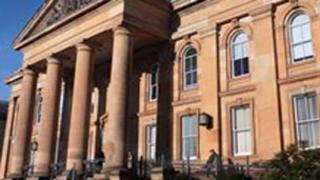 A detective who worked in the family protection unit at a Scottish police force has been placed on the sex offenders register after sending obscene messages about children.
Iain Ledger, 47, left voice messages on a social networking site in which he made sexual comments about a child.
He is expected to be dismissed from his post at Tayside Police after admitting the offences.
At Dundee Sheriff Court sentence was deferred for background reports.
Sheriff Richard Davidson told Ledger that his conduct had been "obscene, disgusting and almost depraved".
The court heard the offences occurred between November 5 and December 12 last year.
Offensive calls
Fiscal depute Nicola Gillespie said that Ledger had used a computer at his home address to log onto a London-based website which had "dating and chatting facilities".
But moderators became concerned after he made a voice call to other site users from his landline, making sexual comments about a child later discovered to be fictional.
Ms Gillespie said that Mr Ledger was barred from the site and police officers were notified of his behaviour. He was later arrested.
Officers investigating the case were given transcripts and audio tapes of 11 offensive voice calls, and colleagues identified Ledger's voice.
Miss Gillespie added: "The accused was asked to provide his landline number and it matched the number used.
"(The messages were) describing alleged sexual activities with a 15-year-old."
Miss Gillespie said that a further probe was launched to identify whether or not Ledger had any sexual contact with children but that "absolutely nothing came to light".
'Complete fantasy'
Ledger, who has more than 20 years' experience with Tayside Police and joined the family protection unit in 2008, was transferred to a position in which he had no contact with the public after the allegations emerged.
His solicitor, David Holmes, confirmed that his client had been absent from work due to a stress-related illness for several months.
He said the acts Ledger had described in the calls were nothing but "complete fantasy".
He added: "Mr Ledger felt his life was out of control due to a combination of factors, including occupational stress.
"Perhaps not everyone can cope with the rigours of the work required at the family protection unit.
"He finds it difficult to explain or understand what was going on."
Sheriff Davidson called for reports on Ledger, ahead of sentencing next month.
He said: "This is clearly a huge personal tragedy for you.
"Perhaps we need a greater understanding of the levels of stress police officers can be subject to, particularly within the family protection unit."
A police spokesman said: "Tayside Police is aware of proceedings at Dundee Sheriff Court and can confirm that matters will now be passed to the Deputy Chief Constable for consideration.
"The officer's future position will form part of those considerations."