Legal action over River South Esk salmon netting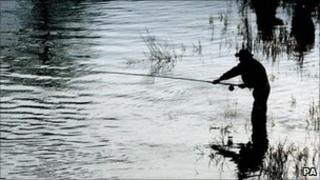 An angling club is taking legal action against the Scottish government over its "failure" to protect salmon stocks.
Brechin Angling Club has submitted a formal complaint to the European Commission over the declining number of the fish on the River South Esk.
Members of the club want ministers to restrict salmon netting on the river to help preserve the stock.
The Scottish government said it was still considering advice over a possible netting season extension.
The legal complaint is supported by the Salmon and Trout Association, and claims the Scottish government has made "numerous breaches" in its requirements to protect salmon under the European Commission Habitats Directive.
Brechin Angling Club is also opposing a move by the government to extend the salmon netting season from the end of August into the middle of September, saying it will lead to a decline in stocks.
Salmon survey
In a letter to the Esk District Salmon Fishery Board, Marine Scotland proposed the two-week extension on the condition government scientists had access to a sample of the catch to help in their investigation of fish stocks.
But angling club spokesman Byron Pace said the sustainable future of the South Esk was under "increased threat" by the proposal.
"Due to the Scottish government's dismissal of the proposed conservation measures, we have been forced to take this to Europe, in the hope we can prevent the damaging effects of increased netting on an already fragile water course," he said.
A spokesman for the Scottish government said: "Ministers have asked Marine Scotland officials to discuss with the net fisheries in the River South Esk arrangements for accessing genetic samples and fish for tagging and release for tracking.
"This is with a view to a possible licensed 'catch and retain' fishery from September 1-14 until 2012.
"Such a fishery would enable access to a reasonable sample of fish and genetic material throughout the commercial net fishing season to inform Marine Scotland Science's statutory investigation of wild salmon and sea trout stocks."