Drunk conductor was left on Dundee platform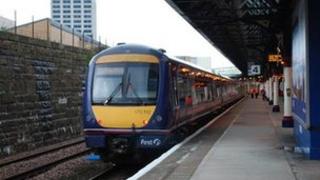 A drunken conductor who was left behind on the platform after his train left without him has been fined £1,000.
Simon Stansfield admitted having excess alcohol in his system when he was working on a ScotRail service from Dundee to Inverurie in November.
Officers from British Transport Police breathalysed Stansfield after a station supervisor who approached him smelt alcohol on his breath.
He resigned two days after the incident.
Dundee Sheriff Court heard that the train made it from Dundee to Carnoustie in Angus before the driver was alerted to the fact his guard - who was three times the legal alcohol limit - was still on the platform.
Passenger safety
The Inverurie-bound train then had to return to Dundee.
Fiscal depute Ross Cargill told the court Stansfield was responsible for telling the driver when it was safe to depart.
He was also in charge of passenger safety and for operating the system to lock the doors and deactivate the braking system.
Mr Cargill said: "Mr Cox, the station supervisor, was approached by Mr Stansfield and told what had happened. The driver was contacted and stopped the train.
"While speaking to Mr Stansfield, Mr Cox smelled alcohol on his breath and contacted the controller. The British Transport Police were contacted and Mr Stansfield was breathalysed.
"He said he had last had a drink at 10am that morning."
Mr Cargill said the breathalyser showed a preliminary reading of 110 mics of alcohol. Stansfield was taken to the police HQ in Dundee, where a blood test revealed a level of 120 mics.
Under railway safety laws, the alcohol limit is 35 mics - the same as for drink driving.
Stansfield, 45, from Dundee, pleaded guilty to a charge of working with excess alcohol in his blood while working on a transport system and controlling the movement of a vehicle.
Alan Lyle, defending, said Stansfield had no idea how the doors of the train had managed to lock with him still standing on the platform.
He added: "He has resigned from his position and has seen his GP to address his alcohol problem.
"He's very ashamed of the position that he finds himself in."
Fining Stansfield, Sheriff Richard Davidson said the public had to be confident the train would operate safely.
"On that day you were in such a bad way for drink that you could not possibly carry out the requirements of your office," he said.
"As such to some extent the public were placed at risk by your state and that's completely unacceptable."