Police officer's sticky tape attack 'not assault'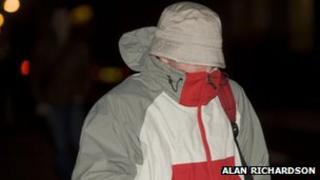 A police officer who handcuffed a bail hostel worker to a window before wrapping tape around her head had "no evil intent", a court has heard.
Arlene Pattie claims she was assaulted by PC George Stewart when he allegedly handcuffed her in a crucifix position in a "bizarre" attack.
The incident is said to have taken place at a bail hostel in Dundee.
PC Stewart, 35, and fellow officer Shirley Tindal, 39, deny assaulting Mrs Pattie on 20 July 2010.
Mrs Pattie, 47, earlier told the trial she had been left "terrified" and "humiliated" by the alleged attack - which left deep indentations on her wrists as a result of the handcuffs.
She said PC Stewart twisted her arms up her back before cuffing her then rolling tape repeatedly round her head - covering her forehead, glasses, ears and nose.
Evil intention
The Crown closed its case on day three of the trial at Dundee Sheriff Court.
Defence lawyers for both accused then argued that the pair had no case to answer - claiming the incident should not be classed as an assault.
Susan Duff, representing PC Stewart, urged the sheriff to throw out the case against him.
She said: "In order to commit an assault he has to have the evil intention to do so.
"Looking at the whole of the Crown case I would submit that there is not enough evidence to convict him of assault."
And Keith Stewart QC, for PC Tindal, said the female officer had no idea an assault was taking place on Mrs Pattie so could not have been part of it.
The court earlier heard PC Tindal had handed PC Stewart her police issue handcuffs after the officer had already cuffed Mrs Pattie to the window using his own set.
Pleas rejected
He said: "The Crown must prove by corroborated evidence that she was acting in furtherance of a common criminal cause.
"There is no evidence on which it can be concluded that Shirley Tindal had any knowledge that an assault was occurring or was likely to occur and her handing her handcuffs as she did is not a reason to find she was engaged in a common criminal purpose to assault Arlene Pattie."
But Sheriff Richard Davidson rejected the pleas to throw the case out.
He said: "I have little difficulty in coming to the conclusion that there is enough evidence as far as George Stewart goes for assault for the 'no case to answer' submission to be repelled."
"As far as Shirley Tindal goes, what we have is a state of affairs where Mr Stewart has handcuffed Mrs Pattie to a window then asked for her handcuffs.
"She simply hands them over - what did she expect to happen?"
The Sheriff said one "reasonable view of the evidence" would be that an assault could continue.
PC Stewart and PC Tindal, whose addresses were given as care of Tayside Police HQ in Dundee, deny assaulting Mrs Pattie to her injury.
The trial continues in January.