Man admits Dunkeld hose assault on women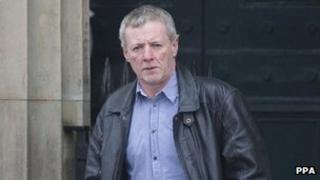 A man has been fined for hosing down his partner and her teenage daughter after his home was damaged in a party.
James Morgan admitted attacking and injuring the women by spraying them with water from a garden hose.
A defence lawyer said tension had built between the 47-year-old and his stepchildren following the house party.
But the court heard Morgan's partner had forgiven him since the incident in Dunkeld, Perthshire, and the pair were now engaged.
Fiscal depute Stuart Richardson told Perth Sheriff Court that Morgan was on his way home from the pub on 31 July when he saw his stepson Sean, 16, and suddenly became enraged.
"I don't know if trouble had been blowing up but the very sight of Sean seemed to cause him to lose his temper. By the time they arrived home he had completely lost his temper."
Bleeding nose
Mr Richardson said he had dragged Katherine Johnstone, 17, from a car and had thrown her into a bush outside her home.
When Mr Morgan's partner Janice Johnstone saw what was happening, she went to help her daughter.
"Mr Morgan reacted by pushing her to the ground," Mr Richardson said.
"Then, bizarrely, he picked up a garden hose and started spraying both females with water.
"Katherine suffered a bleeding nose and Mrs Johnstone incurred a painful hand from landing on the ground."
Morgan, from Tomatin in the Highlands, admitted assaulting both the women by pushing them to the ground and spraying them with water from a hose to their injury.
Solicitor Cheryl Clark, defending, said: "They continue to be in a relationship and are now engaged to be married. He had been having some difficulty with the two children from her previous relationship.
"Shortly prior to this there had been significant damage to some belongings as a result of a party he had been unaware of. It sparked a great deal of tension between Mr Morgan and the two children.
"He is 47 and has no previous convictions. He is embarrassed by his behaviour and I don't think he is someone the court will see again."
Sheriff Lindsay Foulis said Morgan faced a "challenging" situation with the two teenagers
He told the court: "I appreciate he might find himself in a difficult situation because he has two teenage stepchildren. Perish the thought that two children that age can be challenging."
But he told Morgan it was "not the way to behave" and fined him £900.