Veteran Dunkeld trees destroyed by storm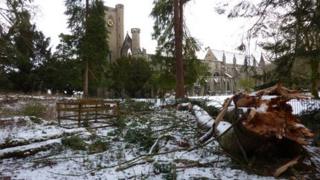 A rescue plan is being drawn up for a grove of trees devastated by the storms earlier in December.
High winds caused "horrendous" damage to the two-acre wood on the Dunkeld House Estate in Perth and Kinross.
The National Tree Collections of Scotland said many veteran trees had been lost, including a huge Colorado white fir.
Gusts of up to 165mph (264km/h) were recorded in the storm which hit Scotland on 8-9 December.
Forestry Commission Scotland said the UK champion Douglas fir at the Cathedral Grove only just survived the onslaught of the storm.
A large section of the multi-stemmed tree was brought down, destroying a section of fence on the boundary of the estate with Dunkeld Cathedral.
Safety concerns
Other casualties included an old larch tree and one of the area's largest specimen of the Japanese hiba tree.
Tom Christian, from the National Tree Collections of Scotland, said: "It is horrendous. The grove contains some staggering examples of mature specimen trees including several heritage and champion trees.
"Several trees have been blown over completely and others lost tops, which did considerable damage to many neighbouring trees on their way down.
"The result is that the grove is now covered in debris, many standing trees are no longer worth keeping, and significant safety concerns have arisen in some of the damaged trees."
Mr Christian said it was vital that the site was cleaned up and a new generation of trees planted to replace those that had been lost. Experts are to meet in Dunkeld in January to develop the rescue plan for the site.