False 999 call led to 12 Dundee roadblocks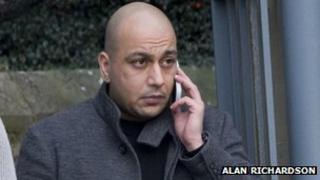 Police officers set up 12 roadblocks around a city after a businessman falsely claimed to police he had been robbed, a court has heard.
Shafiq Jamal had been involved in a deal to buy nine iPhones for just £700 from two men in a car in Dundee.
The 26-year-old told police he had been robbed and threatened with a weapon after the men ripped him off. The roadblocks were set up to catch them.
Jamal, from Dundee, pleaded guilty to wasting police time on 4 November 2011.
Dundee Sheriff Court heard the men in the car handed over a bag with no phones in it - but Jamal did not notice until they had left with his cash.
CCTV footage
He then dialled 999 - claiming two men with Liverpool accents had stuck a weapon into his back before making off in a maroon coloured Ford Focus with his cash.
The court was told 22 officers and four civilian control room staff were immediately put on the case - with the officers setting up road blocks on every route in and out of the city.
But the lies were exposed after police reviewed CCTV footage and saw Jamal talking to the men in the car, leaning in to the window to talk to the men.
Fiscal depute Trina Sinclair said: "The accused's associate provided a statement saying the two men had been selling iPhones and the accused had agreed to pay £700 for nine.
"He didn't check the contents of the bag he was given until the men drove off. His associate said he had felt pressured into making his initial statement that there had been a robbery."
Jim Laverty, defending, said Jamal - a manager at his family's Property World business in Dundee - did not want to report the actual fraud he had been subjected to because it constituted a crime by him.
'Incredibly stupid'
He told the court: "After he was diddled he sought advice and unfortunately that was to the effect that police would likely not take him seriously.
"When he was discussing this it suddenly dawned on Mr Jamal that he had put himself in a very difficult situation.
Mr Laverty added that his client was "totally ashamed of himself".
Sheriff George Way fined Jamal £300 and ordered him to pay Tayside Police £500 in compensation.
He said: "You know this was incredibly stupid and I heard the number of officers deployed.
"This could have got really out of hand - people approaching roadblocks do idiotic things and you would have been the trigger for that."