Ben Ledi summit rescue for 'complacent' hillwalker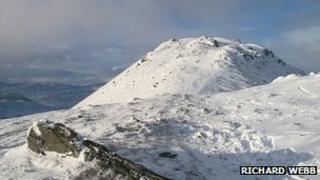 A senior police officer has criticised a hill walker who had to be rescued in "treacherous" conditions after becoming stranded in a white-out.
The man dug a snow hole for shelter at the summit of Ben Ledi, Callander, before calling for help.
Ch Insp Kevin Findlater said the walker had no map or compass, extra clothing or food.
"This man had been complacent and took little notice of the approaching conditions," the officer said.
He had climbed the mountain numerous times before and had decided to "travel light", according to police.
Killin Mountain Rescue Team went to the aid of the man after he managed to text his wife.
Central Scotland Police said the upper slopes of the 2,884ft (879m) mountain were "treacherous", with team members finding themselves in waist-deep snow.
The team were in regular contact with the hillwalker via his phone during the five-hour search. He was warmed up and walked off the hill after being found near the summit, finally reaching safety 10 hours after the alarm was raised.
Ch Insp Findlater said it was "inexcusable" to go into the hills at this time of year without being properly equipped or prepared for extreme conditions.
"This man had been complacent and took little notice of the approaching conditions. Anyone who climbs the hills should always be prepared and pay close attention to the weather forecasts and the weather conditions," he said.
"It is irrelevant whether you have climbed the hill numerous times or once. You still need to be properly equipped and you still need to pay close attention to changing weather conditions.
"It is just fortunate that this man was found safe and well. However, he has put his own life at risk and that of other people who were out looking for him."