Birks cinema project gets £100,000 from Scottish Hydro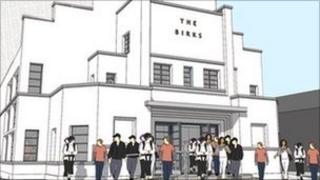 A campaign to restore a Perthshire cinema has received a £100,000 cash boost from Scottish Hydro.
A local group has been raising funds to bring Birks Cinema in Aberfeldy, which closed 30 years ago, back to life.
Scottish Hydro operates the nearby Griffin wind farm and is to pay about £320,000 per year into a community fund, with some of that money going towards the cinema restoration project.
The group has now raised almost 80% of the £1.8m needed for the rebuild.
The Friends of the Birks Cinema charity has set a deadline of the end of January to raise the remaining cash.
Tony Scott, project manager for the construction of the 68-turbine Griffin wind farm, said: "As construction at Griffin comes to an end it's really exciting to see the Griffin community fund being used for a local project that so many people could benefit from."
Scottish Hydro has agreed to pay money into the Griffin community fund for the 25-year lifespan of the wind farm. It is expected that the total value will be in excess of £8m.
First-class facility
Charlotte Flower, from Friends of the Birks Cinema, said: "We were delighted to learn that our application to the Scottish Hydro Griffin Community Fund was successful.
"A significant award such as this will play a very important part in meeting our target at the end of January to secure the match funding awarded in June 2010 from Scotland's Rural Development Programme.
"Our plans to revive the Birks building into a state-of-the-art modern cinema continue and we hope to provide residents and visitors with a first-class facility to be proud of."
Hollywood actor Alan Cumming, who is originally from Aberfeldy, has given the campaign to reopen the town's cinema his backing.
Actress and screenwriter Emma Thompson also contributed a drawing for a "blind" auction held last year to raise funds for the project.