Police officer's sticky tape attack 'unprofessional'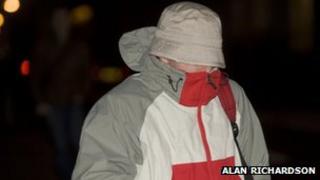 A police officer accused of assaulting a woman by wrapping sticky tape around her head has told a court his conduct "wasn't exactly professional".
But George Stewart said he was "gobsmacked" Arlene Pattie had made a complaint about his behaviour, saying he regularly "flirted" with her.
The incident is said to have taken place at a bail hostel in Dundee.
Mr Stewart, 35, and fellow officer Shirley Tindal, 39, deny assaulting Mrs Pattie on 20 July 2010.
The former PC - who has since resigned from Tayside Police - is also accused of handcuffing Mrs Pattie in a crucifix position while at the East Port House hostel on duty.
Dundee Sheriff Court heard how Mr Stewart took part in rubber band fights with Mrs Pattie and had once chased her into a side office at the hostel to "take aim at her bum".
Mr Stewart said he turned up at the hostel on 20 July 2010 to arrest a resident who wanted to surrender to a warrant.
'Sexual innuendo'
He said he arrived and started his usual "flirty" chat with the married 47-year-old.
Mr Stewart said the pair had communicated on the Bebo social networking site in the past - but their contact had ended about a year before the alleged assault.
He said they sent flirtatious messages back and forward - some including "sexual innuendo".
On the night of the incident, the pair had been talking about Mr Stewart's handling of an allegation of a sexual assault made by a woman at the unit.
Mr Stewart said Mrs Pattie had praised his work before having their "usual banter".
He said: "After the serious part of our conversation we started a bit of back and forward flirting.
"She put her hands together like she was about to be arrested and said 'are you just going to cuff me now then'."
'No resistance'
Mr Stewart said he then attached her to a window before taking a set of cuffs from colleague PC Shirley Tindal and attaching her to the other side of the window.
He then picked up a roll of tape and offered to stick her glasses to her head because they were falling off.
Mr Stewart said: "She was giggling - she was laughing and smiling.
"There was no resistance from her - if there was I would have stopped and removed the cuffs and certainly wouldn't have continued."
He told fiscal depute Trina Sinclair that there was "no indication" Mrs Pattie was frightened or humiliated, but admitted his conduct "wasn't exactly professional".
Miss Sinclair asked: "Are you saying that Mrs Pattie and her colleague who gave evidence against you are lying?"
Mr Stewart said: "To an extent, yes."
'No concerns'
In evidence, PC Tindal told the court: "At the time of the incident I didn't have any concerns about it and didn't feel I needed to get involved."
In her closing speech, Miss Sinclair urged Sheriff Richard Davidson to convict Mr Stewart and PC Tindal.
But defence advocate Susan Duff, for Mr Stewart, said: "Arlene Pattie was a consenting and willing participant in the incident. George Stewart clearly believed that. This was silly, prankish behaviour and not an assault."
Keith Stewart QC, for PC Tindal, said: "The Crown have simply failed to provide any evidence that my client was involved in any assault."
Sheriff Davidson will give his verdict in the case on Wednesday.