'No pollution' after Crook of Devon tanker crash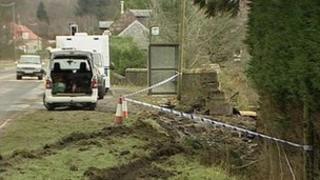 There is no evidence that fuel spilt in a tanker crash in Perth and Kinross on Monday has polluted nearby rivers, environmental experts have said.
The tanker driver, who has not been named, died after colliding with a van on the A977 at Crook of Devon.
Police set up a 200m exclusion zone after the incident.
Officers from the Scottish Environment Protection Agency (Sepa) said no fuel had been discovered in local watercourses.
A Tayside Police spokesman said: "Sepa was at the site again yesterday, undertaking checks of the surrounding area.
"Pools of fuel have been found on land where the incident occurred and a number of other locations but these are being dealt with. Sepa found no evidence of fuel having entered any waterbody."
The agency is continuing to monitor the situation.
Local residents were moved out of the area to Loch Leven Community Centre after the crash, which involved the oil tanker and a Mercedes Sprinter van.
The tanker's trailer flipped onto its side and the cab broke free and ended up in a field. The tanker driver died at the scene.