Conman jailed for stealing grandmother's savings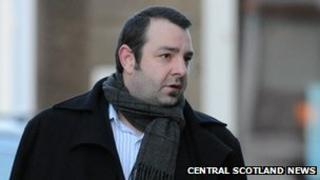 A bogus financial adviser who conned a Stirling grandmother out of her £150,000 retirement fund to pay for his gambling addiction has been jailed.
Ryan Burnside pretended to Margaret Gallivan that he was investing her life savings overseas - but was in fact spending it at casinos.
The 35-year-old, from West Lothian, admitted obtaining the money by fraud.
A sheriff said he had committed a "gross breach of trust" and jailed him for two years and four months.
Stirling Sheriff Court heard Burnside had created a fantasy life to entice Mrs Gallivan, 62, to trust him with her wealth - lying about having large plots of land and expensive cars.
Divorce settlement
Mrs Gallivan, a mental health officer from Bridge of Allan, will now have to work past her planned retirement date, the court was told.
She no longer has any savings and has had to take in a lodger.
Burnside had been dismissed from his post as a senior financial advisor at investment firm Albannach - now known as Towergate Financial Services - on 12 November 2008.
Fiona Caldwell, prosecuting, said the Financial Services Authority (FSA) were informed of the circumstances and he should not have set up as a financial adviser himself.
Mrs Gallivan had received a six-figure divorce settlement after the sale of her marital home, and Burnside was her adviser for six weeks before he was sacked.
But Burnside began working with her again, after he lied that the FSA said he could work again.
In the following months he told her her investments were doing badly, so said he would transfer the money overseas into a Lithuanian account he had, as it would be "more profitable in this account".
'Large losses'
He was caught after Mrs Gallivan's son, Tom, found out he should not have been working.
His solicitor Frazer McCready said Burnside had enjoyed a lavish lifestyle, earning £75,000 a year, before he started having problems with gambling in 2005.
He was left with debts in excess of £40,000, and used the victim's cash to try to resolve this.
Mr McCready said: "He tried to gamble more of her money to try and get it back, after racking up such large losses, but he was effectively robbing Peter to pay Paul."
Sentencing Burnside, Sheriff William Gilchrist said: "I take into account the significant amount embezzled, and also the effect on the victim, as she was effectively defrauded of all her savings."