Sex attacker David McMillan loses second sentence appeal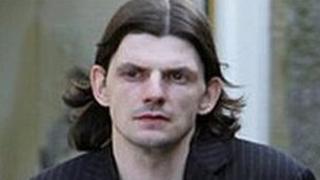 A serial sex offender has failed for the second time to have his sentence cut for breaching a ban on his contact with female children.
David McMillan, from Perth, was jailed for raping a 73-year-old woman in 1996.
The 35-year-old was then given a lifelong restriction order, to serve a minimum of 18 months, in October 2009 for trying to lure a girl to his home.
McMillan claimed the sentence - normally reserved for the most serious sexual offenders - was too excessive.
Judges at the Court of Criminal Appeal in Edinburgh refused his appeal, saying that once a risk assessment report was obtained on McMillan it was difficult to see what alternative disposal could have followed.
The report had concluded that if McMillan was at liberty he posed a high risk to the safety of the public at large.
The court had heard how McMillan had admitted breaching a sexual offences prevention order (Sopo), within days of being freed from prison in 2008, by phoning and sending text messages to a vulnerable 14-year-old girl.
He invited her to his home in Perth using drink and drugs as a lure.
'Appallingly evil'
The girl did not meet McMillan but became increasingly alarmed and the matter came to the attention of the authorities after she was reported missing by social workers.
McMillan claimed that he thought she was a 19-year-old adult.
He pled guilty to the offence at Perth Sheriff Court but was sent to the High Court for sentence because of its potential power to impose a lifelong restriction order.
This sets a minimum jail term - known as a punishment part - but any decision to release the offender is taken by the Parole Board if it is satisfied he is no longer a danger to the public.
Lord Brodie imposed the life term on him at the High Court in Edinburgh in 2009 and ordered that he should serve at least 18 months with the punishment part backdated to August 2008.
McMillan had previously had a discretionary life sentence imposed on him in 1996, before it was overturned on appeal.
He had carried out a brutal rape on a 73-year-old spinster after breaking into the retired teacher's home in Oban.
The judge who dealt with him described the crime as "appallingly evil".
'Last resort'
The appeal court replaced it with a nine-year sentence of detention, but following his release McMillan, formerly of Glenearn Road, Perth, was convicted of breach of the peace offences and was jailed again.
He was given a Sopo in May 2008 banning him from having unsupervised contact with girls or accosting or molesting them.
He claimed he should have received a determinate sentence with added supervision.
Defence counsel Chris Shead argued that it was not right to pass "a sentence of last resort" such as a lifelong restriction order in the circumstances of McMillan's case.
Lord Carloway, who heard the appeal with Lord Bonomy and Lord Philip, said McMillan's claim that the sentence passed on him was excessive included the contention that the sentencing judge failed to take account of his explanation - that the woman was 19.
But he said that in the whole circumstances of the case that factor was "of little moment" when it was recognised that McMillan had been convicted or breaching the order that he did not have unsupervised contact with a girl under 16.
The appeal judges said that although the sentencing judge was in error over one aspect of the case it was not a material error and McMillan's appeal would be refused.
At a previous appeal in 2010, McMillan claimed he had been given faulty legal advice before pleading guilty.
However, this was rejected by Lord Osborne.