Dundee Rottweiler attack owner Derek Adam is jailed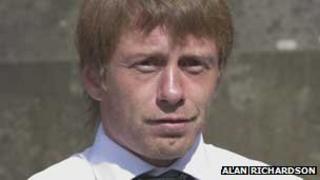 A man who was found guilty of owning two Rottweilers which savaged a 10-year-old girl in a Dundee street has been jailed for a year.
Derek Adam, 39, was also banned from keeping dogs for life.
Adam's dogs escaped from the garden of his ex-partner's Dundee home in August 2010.
They attacked another dog before pulling the girl from her bike, dragging her into the road and mauling her, leaving her with permanent scars.
The case against his ex-partner Sarah Kerr, who claimed she had not known the dogs were in the garden of her Linton Road home, was found not proven.
Sentencing Adam, Sheriff Richard Davidson said the case highlighted that the current law in Scotland over keeping dangerous dogs was inadequate.
He said that the Scottish government needed to tighten legislation to prevent similar incidents, as Adam's dogs had already attacked a man five months before mauling the child.
The sheriff told Adam: "It is much to your discredit that you tried to shuffle responsibility for these dogs on to your former partner.
"This was an accident waiting to happen because of your neglect. These dogs were wreaking havoc but you demonstrated a "couldn't care less" attitude.
"You demonstrated a complete disregard not just for law but for your neighbours and other local residents."
Adam had earlier been found unanimously guilty by a jury of being the owner of the dangerously out of control animals, named Fat Boy and Pretty Girl, following a six day trial last month.
The victim, who cannot be identified for legal reasons, suffered extensive injuries following the attack, including a broken jaw and an 8cm "gaping" wound to her thigh.
It is understood that her injuries could have been far worse had the girl not been rescued by 57-year-old Irene Grady.
Emotional tribute
Mrs Grady was praised by Sheriff Davidson.
He said: "It is to her eternal credit that she remained at least outwardly calm.
"She deserves commendation for her cool head in what must have been very trying circumstances."
The girl's mother paid an emotional tribute to her daughter for her immense courage.
She said psychologists assessing the youngster admitted they had "never seen anyone so resilient".
The woman also thanked Mrs Grady, who was recovering from a broken ankle and three broken ribs when she rushed to the child's aid and sheltered the girl into her home while she called an ambulance.
The girl's mother said: "It was heroic what she did. I don't know how she managed it. I don't know how I would have reacted to one big dog never mind two."