Falkirk man cleared over car break-in death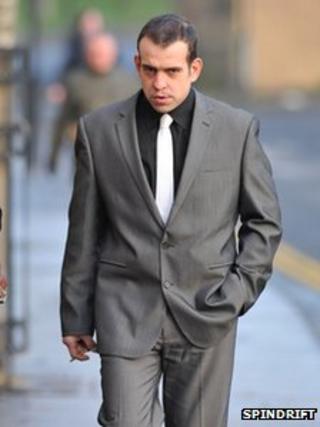 A man has been cleared of killing a convicted criminal he suspected of breaking into his car.
Barry Wilson had been accused of the culpable homicide of Steven Snow, 41, in Falkirk in July 2010.
He got into a scuffle with Mr Snow, who fell to the ground and later died in hospital from a brain haemorrhage.
The 29-year-old, who said he had been acting in self-defence, was found not guilty following a trial at the High Court in Glasgow.
Jurors were told that Mr Wilson was at Falkirk's Copper Top restaurant, having a belated honeymoon meal with his wife and young daughter, when he was told his Peugeot 406 had been broken into.
Mr Snow and his friend George MacAulay had walked past the restaurant and Mr Wilson caught up with them in Glenfuir Road.
During the trial, the court heard Mr Snow had a lengthy criminal past - including convictions for violence, carrying weapons and dishonesty. He had also been thrown out of Falkirk Sheriff Court earlier the day he died after shouting abuse at a sheriff.
The incident between Mr Wilson - a dry stone wall worker - and Mr Snow lasted just four seconds and was caught on CCTV. Mr Snow collapsed to the ground and died two days later in Stirling Royal Infirmary.
The court heard Mr Wilson's police interview in which he recalled asking Mr Snow and his friend to empty their pockets.
'Express remorse'
He said Mr Snow swore at him and replied: "Even if we had anything in our pockets we wouldn't give you it."
Mr Wilson went on: "At that moment he swung a right punch which hit me on the head. I head-butted him. I think I caught him on the chin or the chest.
"We exchanged a few more blows. None of mine or his really hit - and then suddenly this chap just went down. I immediately was in shock. I waited for the police to come."
Mr Wilson, of Bainsford, Falkirk, said he had never intended to hit anyone and wanted to "express his remorse".
His wife Donna gave evidence during the trial and told of the couple's anguish at the charges hanging over her husband.
She said: "When Barry left the restaurant to see if the car was OK that was the last time I saw him for two days until I saw him in Barlinnie Prison."
Mr Wilson said afterwards: "I'm just glad it's all over."