Teacher accused of 'twisting' girl's arm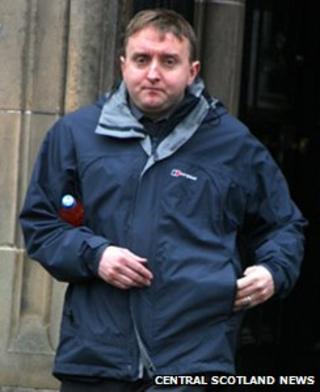 A primary teacher told his class to turn away before twisting a pupil's arm because she was neglecting her work, a court has heard.
One of the primary six girl's classmates told Stirling Sheriff Court Christopher Scott "hurt" the 10-year-old at her school in Stirlingshire.
She said Mr Scott became "very angry" because the girl would not do her work.
Mr Scott, 33, has denied assaulting the pupil over a six-month period while he taught at the school.
The alleged victim's 11-year-old classmate was giving evidence on the second day of a trial.
The classmate gave evidence over video link.
When asked by depute fiscal Emma Whyte why she had come to court, she replied: "Because the teacher who was teaching us, Mr Scott, hurt one of my friends and I saw that myself."
She said she had been friends with the alleged victim for a "long time".
"I think it happened just after lunch time," she said. "What I saw was that my friend was refusing to do her work at the back.
"She was sitting on a border, which was sort of like a shelf, and refusing to move from the back of the classroom.
"The teacher told us to turn away but because she was my friend I wanted to look.
"He grabbed her and pulled her arm, before he twisted it back. It looked like it hurt a lot. I was only sitting a few metres away and can remember very clearly what happened.
"She was trying to pull away from his grip."
When asked how Mr Scott seemed at the time, the pupil said: "He seemed very angry. It was just the expression on his face.
"He looked very angry because he wanted her to do her work. I can remember him saying 'You need to get back to your seat', while he was doing it to her.
"He wasn't shouting but he was very loud when he said it."
She said her friend looked anxious while this was happening.
"She wanted to get away from him," she added. "When someone pulls your arm you just want to get away. She just seemed anxious".
The court has heard that Mr Scott started work at the Stirling Council-run school in September 2010.
For legal reasons, neither the victim nor the school can be identified.
Chinese burn
A second classmate of the alleged victim said Mr Scott had hurt the girl on four occasions, once giving her "a Chinese burn".
The 11-year-old said: "He twisted her arm, he grabbed her arm, he tried to trip her up and there was a fourth occasion which I can't really remember."
Talking of the first incident, she said: "He grabbed her wrist and twisted it in a Chinese burn. He was twisting her skin. He seemed angry.
"I didn't think his behaviour was acceptable. She seemed upset and had a sad expression.
"I thought he shouldn't have done it because a teacher doesn't usually grab a child in an aggressive way."
Speaking of the time she said Mr Scott tried to trip her friend, she said: "At first I thought it was an accident, but looking back I don't think it was and it shouldn't have happened.
"He stuck his foot out when she was walking past him and she stumbled forward. As a teacher you're not supposed to trip a child up."
She added: "He shouldn't have hurt her but he did. He couldn't handle her behaviour getting worse and just blew."
The classmate also claimed Mr Scott was not a very good teacher.
"He was always teaching us things we already knew, as if we were small kids, and he always seemed annoyed with us."
The alleged victim's 13-year-old sister also gave evidence by video link.
She said that just after Christmas in 2010 she noticed bruises on her sister's arms.
Bruising on arm
"One day we were coming home from school and I noticed bruising on her arm but I wouldn't ask why," she said. "One bruise was the size of a 10p piece. I saw them just underneath her shoulder.
"They were kind of blacky-blue. I think I noticed the bruises two or three times."
When asked why she did not ask where they came from, she replied: "I just thought she'd got them from playing, and had fallen, or something."
Earlier this month, the alleged victim told the court that Mr Scott would pull her arm "really tight" and also tip her off her chair.
She said she would get really "sad and upset" when he hurt her.
Mr Scott, from Braco in Perthshire, denies a charge that on various occasions between 3 September 2010 and 10 March 2011 he assaulted the girl by pulling her by the arm, and twisting it behind her.
The charge also alleges he pushed her on the body, twisted the skin on her arms with his hands and seize her by the arm.
He is then said to have struck her on the arm, and tripped her up by her foot whereby she fell to the ground, causing her injury.
The trial, before Sheriff Wyllie Robertson, continues.