Sticky tape assault PC George Stewart to appeal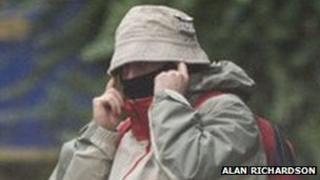 A police officer who wrapped sticky tape around the head of a bail hostel worker after handcuffing her is appealing against his conviction.
George Stewart handcuffed Arlene Pattie in the "crucifix" position during the incident at Dundee's East Port House in July last year.
The former Tayside PC, who denied the assault, was ordered to pay Mrs Pattie £1,000 in compensation.
His solicitor Brian Bell confirmed he would appeal.
His co-accused, PC Shirley Tindall, was found not guilty.
The attack took place after the two officers had gone to the bail hostel to arrest a resident on 20 July 2011.
During the four-day trial, Stewart claimed the incident had been part of a "flirty" relationship with Mrs Pattie, 47, and said he was "gobsmacked" that a complaint had been made.
But Sheriff Richard Davidson branded him as "unprofessional" and "juvenile".
Mr Bell said: "I can confirm that an appeal against conviction and sentence at Dundee Sheriff Court has been lodged.
"Sheriff Davidson will prepare a stated case in due course."