Laird fined for changing course of River Tay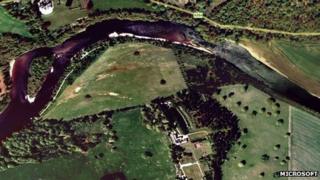 A laird who admitted illegally altering the course of Scotland's longest river has been fined £9,000.
Thomas Fothringham, owner of Murthly Castle and Estate, must also pay to restore to its original state about 140m (459ft) of the River Tay.
Officials at the Scottish Environment Protection Agency (Sepa) said it was the biggest illicit alternation of a Scottish river they had seen.
Fothringham, 40, admitted allowing the works between 31 May and 8 June 2010.
Perth Sheriff Court was told that Fothringham's attempt to change the river could have had "a significant environmental impact" on one of Europe's top salmon rivers.
Fothringham - who is involved with the Tay District Salmon Fisheries Board - said he was carrying out the work for "health and safety reasons" as the bank had been eroded.
'Serious error'
Fiscal depute John Malpass said: "The Tay is a nationally important watercourse and is recognised as a special area of conservation. It is an important habitat for freshwater pearl mussels, for which Scotland supports 50% of the world's population."
He said that even if Fothringham had applied for permission to do the work it would probably have been refused due to the immense scale of the operation.
As well as the mussels, the stretch of river was also home to wild Atlantic salmon, several species of lamprey and otters.
Solicitor Jonathan Guy, defending, said his client had made a "very serious error" and was "deeply remorseful".
Fothringham will face the cost of remedial work to restore the river to its original state and was in talks with Sepa to decide how that should be done, he told the court.
"Ultimately it has been a very costly mistake he has made," Mr Guy said.
Co-accused John McIntosh, who was hired as a contractor to do the work, also admitted carrying out prohibited work on the river without the appropriate authority. He was fined £900.
Sheriff Michael Fletcher told Fothringham: "This is a well-known river in a conservation area. I take into account the fact you were well aware that was the situation.
He added: "The works were extensive and over a large area of riverbank. That makes it more serious. It would be clear to you that there would be likely to be an impact on the environment and the wildlife in the river."