Teacher cleared of assaulting pupil in Stirlingshire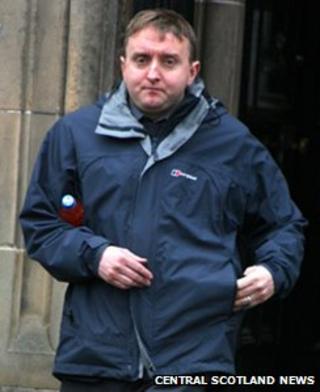 A primary teacher accused of a string of physical assaults against a 10-year-old girl has been found not guilty.
Christopher Scott, 33, had denied assaulting the pupil over a six-month period while he taught at the Stirlingshire school.
A three-day trial heard claims that Mr Scott twisted the girl's arm, tipped her off her chair, and tripped her up.
But Sheriff Wyllie Robertson said he "did not attach a badge of credibility" to the girl's evidence.
He added that the girl was "particularly poor when questioned on more of the detail of the case".
Sheriff Robertson also ruled out the evidence of three of the girl's classmates as he felt "uneasy" that they were "good friends", and they all spoke of separate alleged attacks.
The court earlier heard that Mr Scott, who had taught at 10 different primary schools in nine-and-a-half years since becoming a teacher had been accused of turning on the "moody" child after being brought in to cover at her West Stirlingshire school in September 2010 because of rising class numbers.
The girl, who gave evidence in tears over a video link, claimed the teacher used to "hurt her a lot", leaving what she insisted looked like burn marks and finger marks on her upper arms.
She said: "He used to grab my arm and it would hurt. He would pull at it, holding it really tight. He did this a lot of times."
She added that he would also pull her chair back and make her fall off it.
A classmate said he used to tell the class to "turn away" before he assaulted the girl, and spoke of seeing him give her a Chinese burn.
Head teacher Carolyn Randall said the girl's behaviour had gone downhill from just a month after Scott arrived, changing from being a little bit moody to full escalation of not complying, sitting on the cupboard, banging her heels, leaving the class before it finished, and being emotional and tearful.
She also had issues about PE. She did not want her legs to been seen, did not want to take part, and said she had problems with her kit. Mr Scott was one of the PE teachers.
According to other evidence, he would often get angry, go red in the face, and shout at his class. He was accused of becoming "very angry" when the girl would not do her work.
But the father-of-three from Braco, Perthshire, claimed the allegations were all the result of a "vendetta" and said his alleged victim and her classmates were lying.
He told his solicitor that within a week at the school the girl had begun causing him concern, refusing to do what he asked, refusing to complete tasks, and refusing to comply generally.
Head teacher 'vendetta'
He said he attempted numerous "teaching strategies" to deal with her behaviour, such as giving her praise and asking other staff members for advice.
He admitted he had occasionally shouted at her out of "anger and frustration".
But when asked if he had ever laid a hand on her, he replied: "Certainly not. If I laid my hand on a pupil I could be dismissed."
He added: "It is abhorrent to think I would do that to a child. I was very angry when the allegations were made."
During cross examination by depute fiscal Emma Whyte, he said he thought the girl reacted badly to having a male teacher.
Miss Whyte read back a statement Mr Scott gave to police, in which he said the head teacher had "encouraged a culture of staff and pupils making complaints against" him.
He added: "I felt she undermined me as a professional."
He also confirmed another comment he made to police which claimed the head teacher "had a vendetta against him and wanted him struck off as a teacher and convicted in a court of law".
Finding him not guilty Sheriff Robertson said had been was a "very difficult matter to resolve".
Leaving court surrounded by about 30 supporters, Mr Scott said only: "I'm glad it's all over. It's been hanging over me since March."