Greg Smith admits dialling 999 to ask for lift home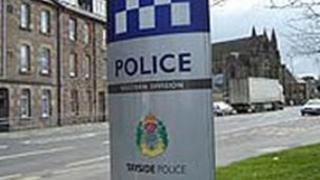 A man who admitted repeatedly calling 999 to demand that officers give him a lift home has been told his behaviour was "utterly disgusting".
Greg Smith, 20, who made several calls to the police emergency number, asking them to send a car to act as a taxi, was warned he could be jailed.
Officers eventually drove out to his rural location to give him a formal warning about his conduct.
But when they left him he quickly made another 999 call.
Smith was eventually picked up by police but instead of taking him home they took him to a police cell.
Smith, from Alyth, Perthshire, admitted persistently misusing the 999 service at Barvick Cottage near Crieff on 2 September.
The court heard how Smith was subject to three bail orders at the time.
Sheriff Robert McCreadie said he had planned to give Smith a custodial sentence but would defer sentence until May initially for him to be of good behaviour.
"It is utterly disgusting that you should think fit to use the 999 service in this way," he said.
Fiscal depute John Malpass told Perth Sheriff Court: "The accused was under the influence of alcohol and indicated he wished to speak to the police. The calls were made from quite a remote location.
"At 9pm he stated that he wanted a lift home to Alyth. He was advised that 999 was not a taxi service and as a consequence police were dispatched to have a word about his conduct."
'Frivolous calls'
Mr Malpass said officers saw Smith, who was under the influence of alcohol, at 21:15. He told them he had fallen out with his friends and required a lift home to Alyth.
"He was warned regarding use of the treble nine system and told that if there was any reoccurrence he would be arrested," Mr Malpass added. "At 9.30pm a further 999 call was made.
"He was again asking to be taken home. This time he was arrested. I suppose he achieved a lift halfway home because officers took him to Perth police office and detained him in custody."
Solicitor Cliff Culley, defending, said: "He is young and is immature as well. He sometimes doesn't quite get it and thinks he knows a bit better than others."
Sheriff McCreadie told Smith: "If you took alcohol that is an aggravation of your offence. There are horrendous social problems faced by this country and you are part of that problem."
Speaking to the court, he added: "Does he know what happens if he occupies the time of emergency workers on his frivolous calls and somebody else is trying to get through?
"Somebody may have taken ill, may have had a heart attack or fallen in the street and been rendered unconscious. These are the situations the 999 service is for."