Man 'accidentally' fired gun at Loch Earn anglers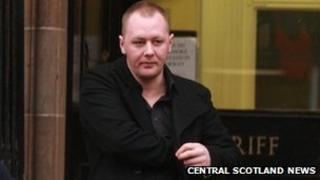 A man who accidentally fired at two fishermen on a Scottish loch has been told by a sheriff he was lucky not to have shot somebody.
David Dickson, 29, borrowed his girlfriend's father's air rifle to practise his skills on a camping trip.
The gun "went off" as he sat outside his tent beside Loch Earn, with a pellet hitting a nearby fishing boat.
Dickson, from Wishaw in Lanarkshire, admitted recklessly discharging the .22 weapon and was fined £600.
The two anglers, Thomas Gilmour and Kyle Little, were in a boat 40 yards from the shore when they heard a "whizz" and then a "ping" as the pellet struck the hull.
Stirling Sheriff Court was told that the pair immediately recognised the sounds as those made by an air rifle being fired, and headed for land to phone the police.
Criminal record
Lindsey Brooks, prosecuting, said the incident occurred at about 19:00 on 23 July 2011.
She said police acting on the report from Mr Gilmour and Mr Little went to lochside and found the tent where Dickson and his girlfriend were camping.
The depute fiscal said: "The accused was interviewed by the police and said he had borrowed the air rifle to go camping. He said he hadn't used one before and was trying to find out how it worked but it went off by mistake, by accident, and hit the boat."
Alastair Ross, defending, sad Dickson "very much regretted" that as a result of the incident he would have a criminal record.
Sheriff Jack Brown fined him £600, reduced from £800 because he had admitted the offence at a pre-trial stage.
'Gross stupidity'
The sheriff told him: "You have pled guilty to the reckless discharge of a firearm. You are extremely fortunate that the pellet struck the boat and not anyone in the boat.
"The consequences for you had that been the case would have been significantly more serious, but they are serious indeed.
"In the light of the facts narrated by the Crown, I take this for what it was - an act of gross stupidity."
The sheriff added that the circumstances which allowed him to deal with the case by means of a fine were "extremely unusual".
He warned: "Be very clear, this is now an offence on your record and if you come back to court for an offence involving a firearm, or violence, or breach of public order, it may have very serious consequences for you."