Change to Scots inheritance law 'poses threat'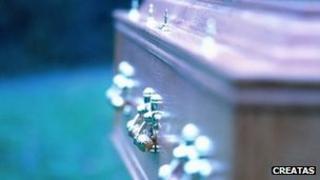 Children whose parents remarry and die without making a will could lose out on their inheritance after changes in Scots law, legal experts have warned.
The amount a spouse is legally entitled to when their partner dies without a will has been raised by the Scottish government to £473,000.
Ministers said the increase reflected inflation and updated existing law.
But lawyers argue it means children from previous relationships are now unlikely to get any financial legacy.
The level of entitlement for spouses whose partner's died without a will was originally £130,000, but it was raised to £300,000 in 2005. The new limit of £473,000 comes into effect from 1 February.
Further allowances can bring the total entitlement up to £552,000, without children receiving anything.
'Zombie law'
Inheritance solicitor Bruce de Wert said the move was a "zombie law" that threatened the financial position of thousands of families in Scotland at a time when second marriages were commonplace.
"Unless this is part of some 'big society' agenda by the current government to promote marriage over everything else, I think that we are sleepwalking into a situation which is unintended," he said.
"There has been no debate in the Scottish Parliament about this. The issue is not that the figure has been increased, it is that it is time to look at whether this law is appropriate in the 21st Century.
"Should the law favour married partners over children to such an extent? Most people would expect the law to arrange the natural flow of wealth down the generations. Is that an unreasonable expectation?"
'Sparing distress'
The changes mean that a parent who remarries could eventually end up leaving all their assets to their new partner's children - rather than their own children from their first relationship - if they fail to make a will.
The Scottish government has said the changes to the Succession (Scotland) Act 1964 meant fewer people in Scotland would be forced to sell their homes in future if their wife, husband or civil partner died without leaving a will.
"The increase in limits to £473,000 means that most people in Scotland will be able to stay in the family home they shared with their spouse or civil partner, sparing them the distress and disruption of leaving their homes at such a difficult time," Legal Affairs Minister Roseanna Cunningham said.
A government spokesman added that the legislation had been scrutinised by both the subordinate legislation committee and the justice committee.
A consultation also received responses from a number of legal experts, including the Law Society of Scotland.