Overnight staffing of Balmossie Fire Station criticised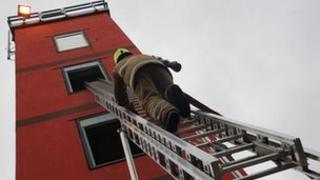 A fire board has been criticised for its decision to staff a station overnight, despite "relatively low" levels of activity and risk.
Tayside Fire and Rescue bosses have made two attempts to downgrade Balmossie Fire Station from a full-time to a retained crew.
Both bids have failed after opposition from the Fire Brigades Union.
A public spending watchdog said it was difficult to see the decisions over the Broughty Ferry station as "best-value".
Members of the Tayside Joint Fire and Rescue Board have voted twice against proposed changes at Balmossie.
As well as union opposition, a public protest march was held in support of the station, which dealt with only 10 overnight fires in 2010-11.
The Accounts Commission said resources could have been moved from Balmossie to create a day crew in Forfar where there was seen to be a greater risk.
The commission said: "It is difficult to see that in its decisions over Balmossie the board has met its best-value responsibilities in its use of public resources," adding that there was "compelling evidence to shift resources to better match the needs of Tayside as a whole".
High costs
The commission also said Tayside Joint Fire and Rescue Board provided "limited leadership in setting the strategic direction of the organisation" with board members focusing on "specific, typically operational issues" over "high-level policy and strategy issues".
Scrutiny of performance by board members was also "limited", according to the report.
Tayside Fire and Rescue's operating costs were the second highest in Scotland for 2010-11, at £59 per head of population, higher than the Scottish average of £53.
The high expense is thought to be at least in part down to the geography of the area and the relatively high levels of deprivation in Dundee. But the Accounts Commission pointed out that the service has reduced its real-terms cost by about 15% since 2005-06.
Accounts Commission chairman John Baillie said: "Tayside Fire and Rescue has a strong focus on prevention and it is helping reduce the number of fires and casualties.
"It has a strong culture of continuous improvement and many of the elements which are essential to providing best value.
"However, councillors on the fire board need to do more to scrutinise and challenge the service's performance and help shape its strategy and use of resources."
Tayside Fire and Rescue said the report identified the service as a "high performing organisation".
Chief fire officer Stephen Hunter said: "The auditors have identified areas of high performance in virtually every aspect of the service which came under scrutiny as part of the audit process.
"Every member of Tayside Fire and Rescue has contributed to the achievement of this high performance, the outcomes of which are making our communities and our firefighters safer.
"However, we will not become complacent, as the challenges we face in our work to make our communities and our firefighters safer continues to grow."