Revised Perth incinerator plan rejected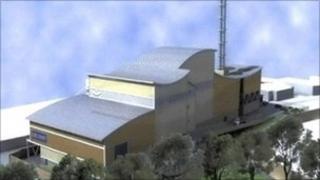 Revised plans for a £100m waste plant incinerator on the outskirts of Perth have been rejected by councillors.
The Grundon Waste Management proposal, which included an 80m (262ft) chimney, was first rejected three years ago.
An appeal against the decision was then launched but this was dismissed by ministers in November 2010.
The new plans included a smaller 34m (111ft) chimney. But councillors have now rejected these after they attracted strong local opposition.
A statement issued by Grundon Waste Management said it was "concerned and disappointed" by the approach the council had taken.
It added: "We fail to understand why Perth and Kinross Council's environmental health manager posted significant information about air quality, odour and noise on the council's planning portal in November - but did not provide this to our technical consultants RPS.
"Once we have received and evaluated the officer's report following the council meeting, we will decide on our most appropriate course of action".