Dundee reservoir ice rescue for dog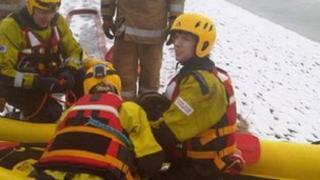 A dog that fell through ice on a Dundee reservoir had to be rescued by a team of specialist firefighters.
The two-year-old boxer was stranded when it ventured out onto the frozen reservoir at Clatto Country Park on Sunday morning.
Tayside Fire Service was called by the dog's owner, who attempted to rescue the animal herself but was unable to reach it.
A swift water rescue team used ropes and a sled to get to the dog.
The fire service said the pet was "extremely tired and cold" and was taken to a local vets for further treatment.
A rescue team from East Kingsway Fire Station supported fire crews sent from Macalpine Road and retrieved the dog in about 30 minutes.
Station manager Keith Dyer, who attended the incident, said: "Tayside Fire and Rescue have mobilised to a number of water rescue related incidents in the last few years, which in some cases have tragically resulted in people drowning.
"Whilst we do not wish to discourage people from enjoying the countryside it is important that the public are aware of the hidden dangers especially when reservoirs and lochs are partially frozen.
"The ice near the shoreline is normally much thicker than that further out and although, in this instance, it was thick enough to support the weight of the dog initially, the ice which was much thinner further out broke and caused the dog to fall into the water from which it then could not get out from."